Introduction
Halo. Ik ben Nanta. Ik ben een Indonesische violist en pedagoog. Sinds 2020 woon ik in Den Haag, Nederland.
I play, teach, learn and broaden my musicality in many ways, including lessons, masterclasses, and various music events. Formally, I learn classical music, albeit open to other preferences, such as pop, jazz, flamenco, fusion or even progressive metal like Dream Theater – anything but EDM. I am currently interested in contemporary music.
I have a bachelor's degree in psychology. My psychology background strongly influences and supports my teaching, especially when understanding students' learning difficulties. It enables me to support their learning processes, developing and exploring their creative and expressive skills.
I am in my final year at the Royal Conservatory The Hague, doing my Master's in Instrumental and Vocal Learning & Teaching. I wish to share my music and reflect my interest in inclusivity and diversity to broaden my horizon. So, let's get together and play or create!
Please visit my website for more info: nantaviolin.wordpress.com.
The picture below is from when I joined Ricciotti Ensemble's Futuratour.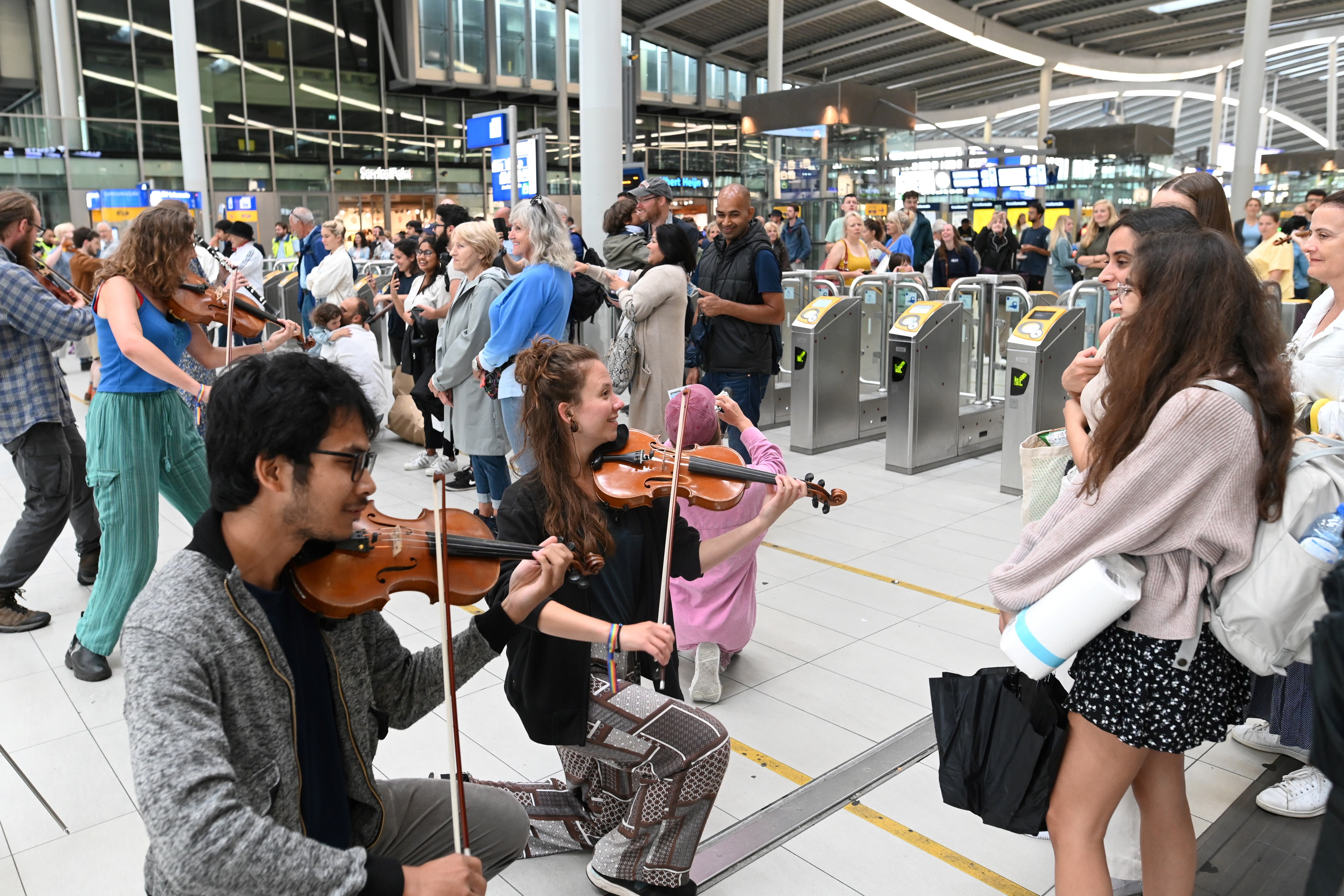 Video
It is a video snippet of me playing the violin as part of a fundraising video made by me and some Indonesian musicians in the Netherlands.
Enthousiast geworden?
Boek dan nu je proefles
Boek nu
Vioolles
My violin class is open for any genre, from classical to pop. The lessons will be in English, Indonesian, or basic Dutch. There is no need to bring anything for a trial lesson, but it would be great if you already have your violin, and feel free to get your previous materials or songs/pieces you have ever learned to the trial lesson.
When teaching, I focus on diversity and inclusivity. I have taught diverse students from various nationalities, ages, and levels. My students are Indonesian, Dutch, Colombian, Korean, and Japanese, from 5 to 40 years old, and from no experience to intermediate.
Muziektheorie
I teach music theory to beginners. In my lessons, the development of hearing, audiation, musical feeling, rhythm, and notations are central. The lessons would not be static. There will also be fun and exciting activities to promote audiation and rhymical sense.