Introductie
In my journey as a guitar teacher, I have crafted a versatile educational program that caters to students of all levels and embraces a wide range of musical genres, including rock, pop, jazz, funk, blues, and more. My teaching philosophy centers around adapting each lesson to the unique needs and aspirations of the student. The most important thing is that we have fun together while building a productive musical path.
To get started, I offer a complimentary first lesson. Whether you prefer online or in-person lessons, I'm here to accommodate your learning style in both Italian and English.
"Being a musician and being a teacher are two distinct things, which require two skillsdifferent and two different attitudes. Many musicians teach as a substitute, not finding a way toearn money by writing music, and therefore they do it reluctantly and with the result of driving them awaypeople from music. This is why I committed myself and followed a certain type of path:to be able to satisfy the desire to play of all those who feel the need."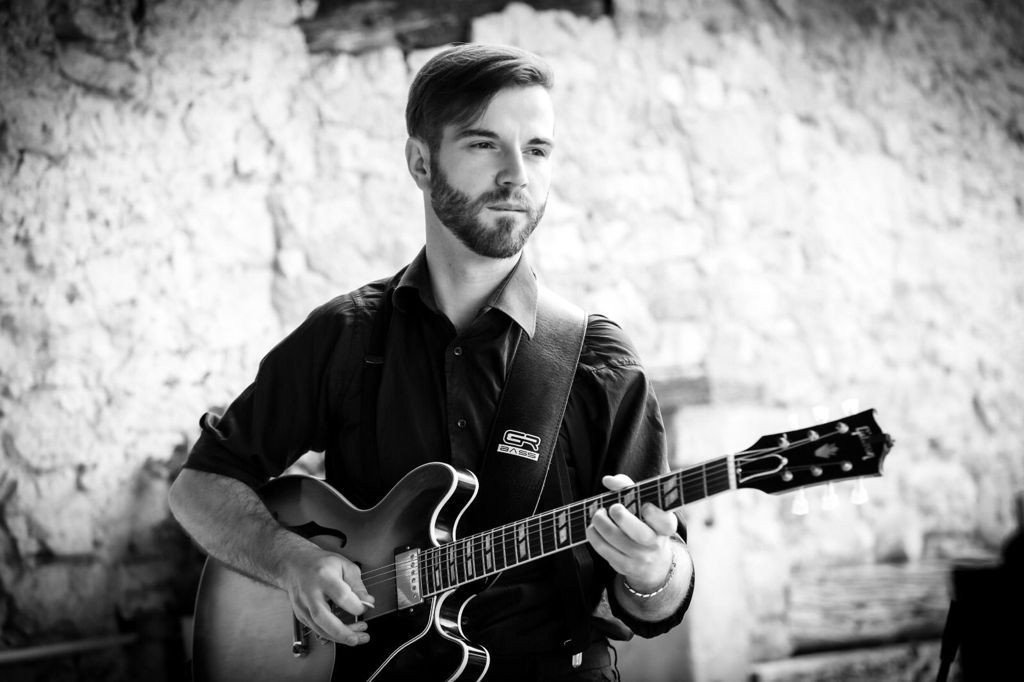 My music career
BIO
Born in Bassano del Grappa in 1995, he immediately began to deepen his knowledge of music which led him to develop the guitar starting  the concert activity very early. After his studies he specialized at the Arrigo Pedrollo conservatory in Vicenza in the jazz guitar Master with the highest grade. Moving to Vicenza he had the opportunity to get to know and meet many talented musicians and reference figures such as the guitarist Michele Calgaro. He continues to perform with various projects in Italy and abroad playing in important jazz clubs and jazz festivals and beyond.
Research
In 2022 he moved to Rotterdam to start a research Master at CODARTS based on counterpoint and polyphony applied to the guitar by combining thehis music with the classical music of the last century.  The research explore not only the limits and potential of the instrument but also the music of aartists such as Messiaen, Debussy, Ravel, Mompou, Scriabin and many others. The Dutch scene is full of talented musicians ready to experiment and search for new music.
Vision
I am a musician who has always been interested in exploring new musical paths, trying to go beyond conventions and expectations. My musical research focuses on experimenting with new sounds, incorporating elements of different musical genres and using innovative technologies. My goal is to create an original and unique sound that can excite and engage the audience. My musical research is based on a constant study and deepening of musical techniques and instruments, but also on collaboration with other musicians and artists of different disciplines. I am convinced that the interaction between different art forms can lead to surprising and stimulating results.
Enthousiast geworden?
Boek dan nu je proefles
Boek nu
What you need for the lesson?
What do you need for your first lesson? Well, it's quite simple – just grab your musical instrument, a trusty notebook, and a generous amount of enthusiasm to learn.
During our lessons, we'll embark on a musical journey, delving into exciting topics like learning songs, a bit of music theory, and honing your technique. At the end of each session, I'll provide you with PDF documents containing all the material we covered, so you can revisit it whenever you like. Now, here's the intriguing part: whether you're joining me online or in person, you'll have the option to record the entire lesson, both in video and audio formats, allowing you to review and share it with whomever you please.
Think of the notebook as your trusty sidekick on this musical adventure – a place where we'll create diagrams, jot down notes, and keep track of assignments. By the end of each lesson, you'll be well-equipped with a clear plan on how to practice at home and the steps to take for continual improvement. It's a captivating musical experience waiting for you, ready to amplify your talents!
The studio is fully equipped with all the materials needed to conduct engaging and captivating lessons. We have instruments available for both of us, music stands, and a sound system that allows us to listen to songs and play along.
Gitaarles
The guitar has always held a special place in my heart. I've been strumming its strings since childhood, and the way music courses through your being when you play is truly magical. 
In my course, I want you to set aside any worries about your starting point or your age. Instead, focus on the sheer happiness that music can bring into your life. Let's work together to identify your goals, and I'll guide you on the most enjoyable path to reach them.
Let's embark on this musical adventure together and let the guitar become your gateway to a world of joy and creativity!
Ukeleleles
The ukulele has always had a special place in my heart. Its cheerful sound and compact size make it a delightful instrument to play.
Would you like to learn to sing and accompany yourself on the ukulele? Or accompany your friends?
In my ukulele lessons I invite you to leave behind any worries about your starting point or your age. Instead, focus on the pure joy that music can bring into your life through this wonderful instrument. Let's work together to define your goals and I will guide you along a path full of musical discovery.
Join me on this musical journey and let the ukulele be your key to a world of joy and creativity!