Bassist by chance
My path in music started when I was 6 – my parents asked me if I want to go to the music school and not really knowing what that will bring me, I decided to take the chance. Eight years after that, I graduated from music school as an accordion player. Being a young teenager, I decided that accordion was not cold enough. So I picked guitar and was playing for a few years, until the moment my best friend asked me to join the band as a bass player. I accepted the offer even though I have never had a bass in my hands. So, long story short, I became a bass player almost by accident. After taking lessons for a couple years, I entered the conservatory in Lithuania. I graduated as a bass player in the jazz department. A few months later, I was already studying double bass (contrabass) in Rotterdam. Now, when all my studies are complete, I decided to encourage and inspire people to play bass. This instrument is easily overlooked in the music world, and beginner musicians tend to choose the guitar, to begin with. Well, that's an excellent choice because having the basics in playing the guitar, those skills would help a lot in playing bass. Becoming a bassist opened a lot of doors. I would like to show my students that bass is not only the "boring" instrument that plays one note only (although that could be quite challenging) It can be a melodic part in the band and set the foundation for many songs in many different genres.
Bass Guitar & Contrabass lessons
As mentioned before, my goal is to show people how exciting and fun playing bass actually is. In my lessons, you could expect a healthy mix of technique (posture, finger position, different playing styles) and jamming/playing songs. I can teach you to read sheet music and tabs, whichever you prefer (or, of course, both). In the trial lesson, I talk with the students for a bit, trying to understand the music (s)he loves, the level of playing, and the goals the student wants to achieve. Of course, not all the time, everything is clear after a short first meeting, but I already put a rough plan on what we could do in the follow-up lessons and see where it could get. Whether you're into rock, pop, jazz, metal, or any other genre, we will find the plan for you that will encourage you and, most importantly, be fun.
Enthousiast geworden?
Boek dan nu je proefles
Boek nu
Guitar lessons
The guitar is an instrument that doesn't need any introduction. After the trial lesson, I will make a plan for every individual student. I teach rock and pop the most, next to that, I can show you quite some ways to tune your guitar differently (so-called open-tunings) and experiment with that as well. For reading the music, I can teach you both to read tabs and sheet music.
Piano lessons
I started playing piano at the age of 6 and was playing more or less ever since. Like every other course I offer, I would make a plan for the student after the trial lesson. It is, of course, the best to get started with your favorite songs, but it is also possible to work from a piano book for beginners. Learning to read notes is essential when you play the piano.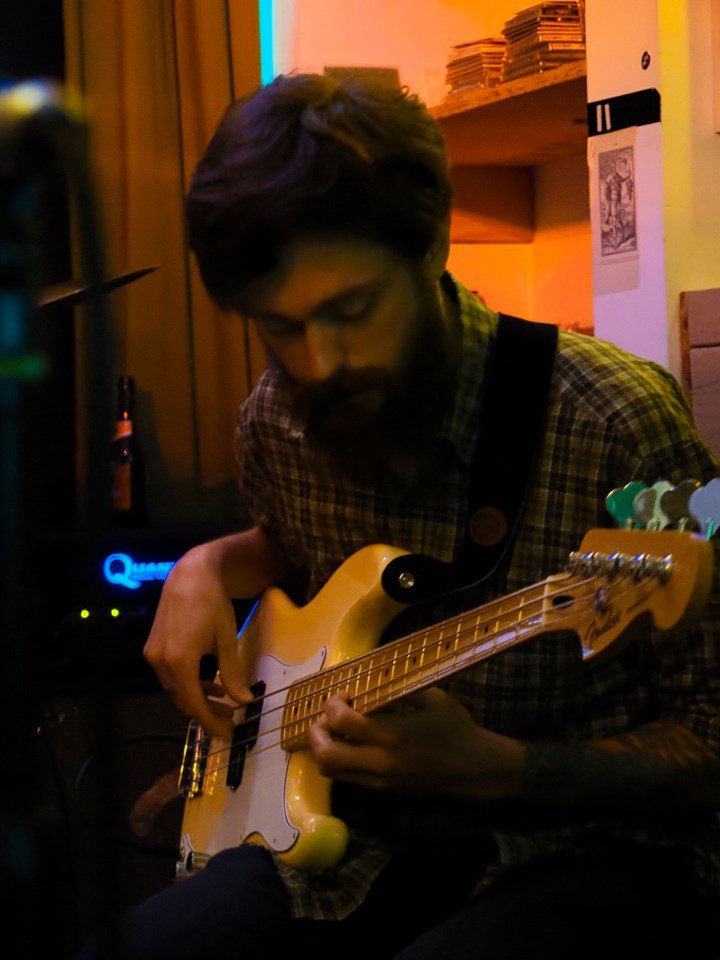 How to prepare for the first lesson?
For the very first lesson, I advise students to think about what do they want to learn. Since that question is tough for beginners, it's also good to think about the following questions – what music style do you like? What songs do you like? Then we could talk about what goals to set and what way of learning to choose. I firmly believe that every student is different, and applying for the same course over every person is just a disastrous way of teaching. I like to personalize the course for each student to get the best results and to enjoy learning music at its fullest. If the student is already playing the instrument for a while, I would advise thinking of what (s)he could show me, so I would get an idea of the level the student is in. And of course, the previous questions apply.