Introduction
I am a pianist and teacher coming from a Russian family rooted in musical pedagogy. I have been playing the piano since the age of 3. Born in Moscow and raised in Spain, I finished my master's degree in piano performance in ArtEz Conservatorium under the guidance of Michail Markov, founder of the International Piano Competition for Young Musicians.
Due to my constant travelling, I speak flawlessly Russian and Spanish, being English my second language.  I also can teach in Dutch.
My main focus is classical music. I work with repertoire such as Bach, Schumann, Clementi, Beethoven, Bartok, Satie. Also I borrow influences from musical and film music Such as Yoshimatsu and Yiruma.
I have an outgoing character and I appreciate honesty and spontaneity as much as hard work and conscientiousness. If you are a parent and enjoy being involved in your child's journey and development, you are welcome to join our lessons and even play together!
My main interests outside the classroom is fineart and consciousness, therefore I try to include my passion for both fields in a balanced way.
I am constantly improving my methodology, tailoring it to special needs. Always respecting the talent and creativity of my students. I make technique into an interesting game and help connecting to music in a deeper level. I use innovative tools and out-of-the-box solutions, especially with the young ones: we can drum, dance and integrate movement and meditation in our lessons.
Piano lessons
Piano lessons for absolute beginners : Introducing auric training, rhythm and music structures while getting acquainted with the keyboard. Discover melodies and sounds in a playful way. Structured lessons with flexible content adapted to the student's needs.
Piano lessons for young talents : Advance in small steps towards your pianism. Selected pieces to train and understand musical language and the keyboard while developing technique in an effective way. Preparation for educational programs (conservatorium, talentklas, music minors)
Piano lessons for seasoned musicians: Develop your own repertoire that serves your purpose. Are you looking for an alternative way of learning? Do you feel you plateaued in your technique? Do you want tools to create your own practice? This is your course.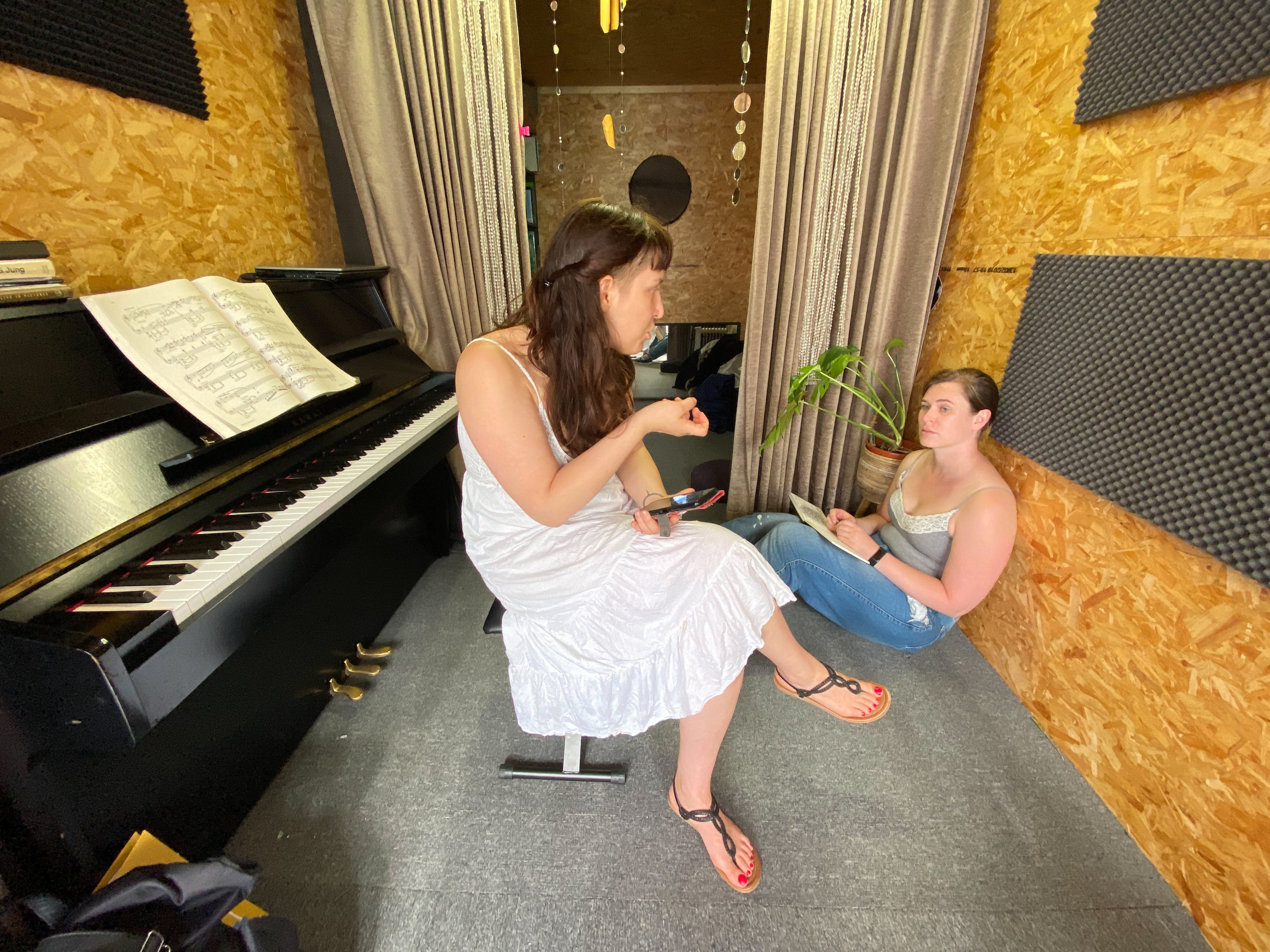 Enthousiast geworden?
Boek dan nu je proefles
Boek nu
Music theory
Auric training, solfege, dictation, harmony.  All the requisites and details needed to pass exams.