Introductie
Al van kleins af aan ben ik met muziek bezig. Zingen, dansen, acteren, ik deed het allemaal. Ik ben uiteindelijk muziektheater gaan studeren (Fontys Tilburg) en stond daarna in diverse theaterproducties. De afgelopen jaren heb ik me volledig op zang gestort. Ik begeleid koren, geef zangles volgens de CVT methode en treed op met voornamelijk mijn eigen nummers.
Ik vind het fantastisch om iedereen vooral heel veel plezier mee te geven in het muziekmaken. Welk niveau je binnenkomt maakt niet uit. Het is geweldig om te zien en horen hoe snel soms hele grote overwinningen gehaald worden.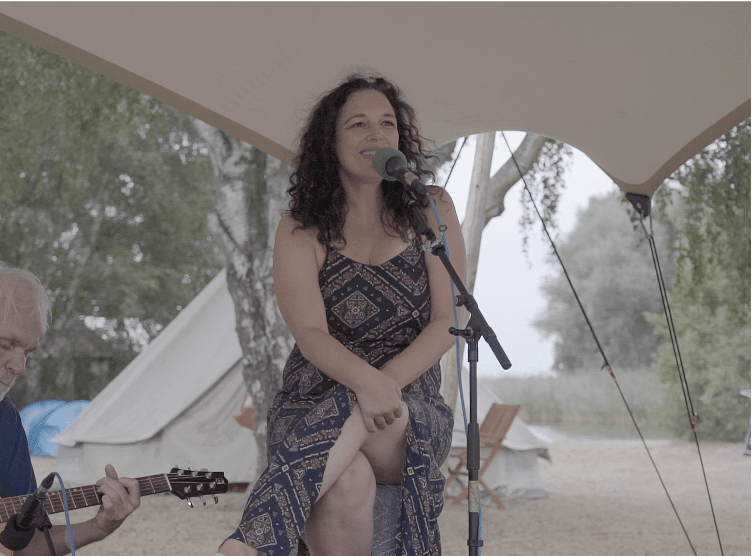 Zangles
Hou je van zingen? Wil je meer controle krijgen over je stem? Kom dan op zangles.
Ik zing al heel lang, studeerde muziektheater (Fontys) en stond daarna in vele musicals en muziektheaterproducties maar dankzij de Complete Vocal Technique van Cathrine Sadolin weet ik ook precies wat ik doe en heb ik toegang tot veel meer stijlen dan ik zelf ooit voor mogelijk had gehouden.
Wil jij graag een bepaalde sound? Klinken als jouw favoriete artiest? Of juist je eigen geluid vinden? Misschien dat je stemproblemen hebt of altijd hees wordt als je veel zingt, praat. Hierbij kan ik je allemaal ondersteuning geven.
Zorg dat je een liedje hebt waar je aan wilt werken. Maakt niet uit welke stijl. Dan gaan we samen op zoek naar jouw eigen stem.
Songwriting
Wil je je eigen liedjes schrijven maar weet je niet goed hoe je moet beginnen? Schrijf je teksten waar je graag muziek onder zou zetten? Verzin je mooie melodieën maar geen idee hoe je hier een begeleiding onder kunt zetten?
Voor iedereen beginner of gevorderd, stap voor stap begeleiding tot singer songwriter. Het is handig als je al iets van muziek weet en een instrument bespeelt.
Introduction
I have been involved with music since I was little. Singing, dancing, acting, I did it all. I eventually went on to study musical theatre (Fontys Tilburg) and subsequently appeared in various theater productions. In recent years I have devoted myself completely to singing. I accompany choirs, give singing lessons according to the CVT method and I once in a while I perform my own songs.
I think it's fantastic to give everyone a lot of fun in making music. It doesn't matter which level you enter. It's great to see and hear how fast sometimes very big victories are achieved.
Singing Lessons
Do you like to sing? Want to gain more control over your voice? Then come to singing lessons.
I've been singing for a long time already. I studied musical theatre (Fontys) and then appeared in many musicals and music theater productions, but thanks to the Complete Vocal Technique of Cathrine Sadolin I also know exactly what I'm doing and I have access to many more styles than I ever imagined.
Would you like a certain sound? Sound like your favorite artist? Or just find your own sound? Maybe you have voice problems from always getting hoarse when you sing or talk a lot. I can support you with this.
Make sure you have a song to work on. It doesn't matter which style. Then we will look for your own style and voice together.
Songwriting
Do you want to write your own songs but you have no idea where to start? Do you write lyrics and want to add music to them? Do you come up with beautiful melodies but you have no idea how to add an accompaniment?
For everyone beginner or advanced, step by step guidance to be(come) a singer songwriter. It is useful if you already know something about music and play an instrument.