Introductie
Hallo! Ik ben Wilma, professioneel celliste, en ik speel bijna heel mijn leven al cello. Toen ik 3 was, zag ik een vrouw op straat cello spelen en was ik meteen verliefd. Een jaar later begon ik met celloles, en daar heb ik sindsdien veel plezier van.Voor mij is muziek een manier om mezelf te uiten, en positiviteit en inspiratie met anderen te delen.Een instrument bespelen is een grote avontuur, en de muzikale relatie die je met jezelf kunt aangaan door je eigen creativiteit, is voor mij een van de meest waardevolle dingen in mijn leven.
Ik geef ruim 10 jaar celloles, en heb ervaring met zowel kinderen als volwassenen. Op het moment zitten mijn leerlingen tussen de leeftijd van 5 – 80 jaar, van absolute beginners tot zeer gevorderde cellisten.Voor jonge kinderen is het handig als een ouder mee kan luisteren in de les, en thuis kan helpen met oefenen. Een celloles voor een kind ziet er anders uit dan voor een volwassen leerling: met kinderen doe ik meer spelletjes om op een minder serieuze manier kennis te maken met muziek, en techniek makkelijk eigen te maken. Ook werk ik bij kinderen meer auditief, bv. met naspelen en -zingen in plaats van direct noten lezen.Voor de proefles heb je nog geen eigen cello nodig, en hoef je niets voor te bereiden. Na de eerste les kan ik je informatie geven over het huren van een cello. Dit kan al vanaf ongeveer 30 euro per maand, op verschillende plekken in Amsterdam.
Ik geef les in Amsterdam op dinsdag en woensdag, en in Zaandam op donderdag. Een les duurt 45 of 60 minuten. (Voor beginners is 45 minuten meestal wel lang genoeg.)
Celloles
– SAMENSPELEN en muziekmaken zijn al belangrijk vanaf het eerste moment.– Er is ruimte en aandacht voor jouw inbreng, wensen, en interesses. Het is namelijk motiverend om iets te spelen wat je zelf leuk vindt!– Ik wil ieder persoon op hun eigen niveau uitdagen en inspireren.– Als docent ga ik op zoek naar een aanpak die bij jou als individu past, en help ik je om een eigen manier van leren/studeren te vinden.– Samen onderzoeken we hoe we de natuurlijk mooie klank van de cello naar buiten kunnen laten komen, met zo weinig mogelijk onnodige (spier)spanning.– Door mijn ervaring met (het overwinnen van) podiumangst/faalangst, waardeer ik het nut ervan om mijn leerlingen daarin te begeleiden en ondersteunen, waar nodig.– In klassieke muziek ben ik het meeste thuis, maar ik speel en deel ook graag jazz, wereldmuziek, en pop.– Naast celliste ben ik ook componiste! Het is mogelijk om compositieles bij mij te volgen, of gewoon je creativiteit mee te nemen naar je celloles 🙂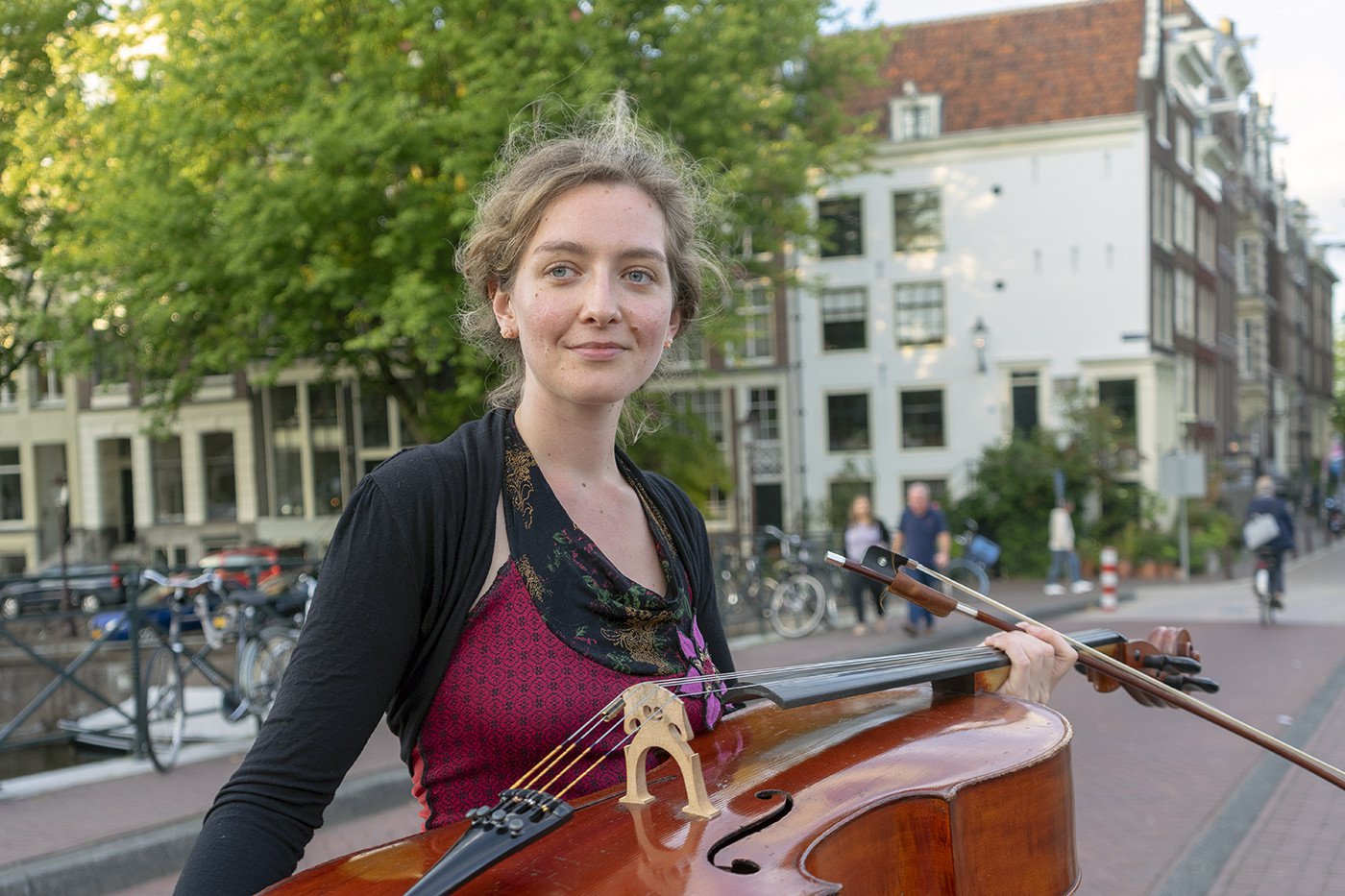 Enthousiast geworden?
Boek dan nu je proefles
Boek nu
Over mij
In ben geboren in Zuid-Afrika, en verhuisde op jonge leeftijd naar Nederland, waar ik sindsdien met veel genoegen woon.In 2014 rondde ik mijn Bachelor Cello cum laude af aan het Conservatorium van Rotterdam.Het jaar ervoor (2013) kreeg ik mijn Bachelor diploma voor Compositie aan het Conservatorium van Amsterdam.Naast cello docent, ben ik gediplomeerd docent Alexander techniek. Alexander techniek is en methode van zelf-observatie, waarbij je op zoek gaat naar een meer comfortabele manier van bewegen, met minder onnodige spanning en pijn. In mijn cellolessen heb ik dan ook aandacht voor een goede houding en een gemakkelijke manier van beweging, om mijn leerlingen zo comfortabel mogelijk te leren spelen.Ik treed graag solo op, en heb een liefde voor kamermuziek en improvisatie. Naast docent en uitvoerende musicus ben ik ook componist! Je kunt bij mij ook compositieles volgen, of gewoon je creativiteit meenemen naar je celloles.Ik geef les in het Nederlands, Afrikaans, and also in English.
Ben je nieuwsgierig, heb je interesse, of wil je meer weten?Neem gerust contact met me op voor een vrijblijvende eerste les/kennismaking. Ik kijk erna uit je te ontmoeten, en je te begeleiden op deze geweldige reis!
——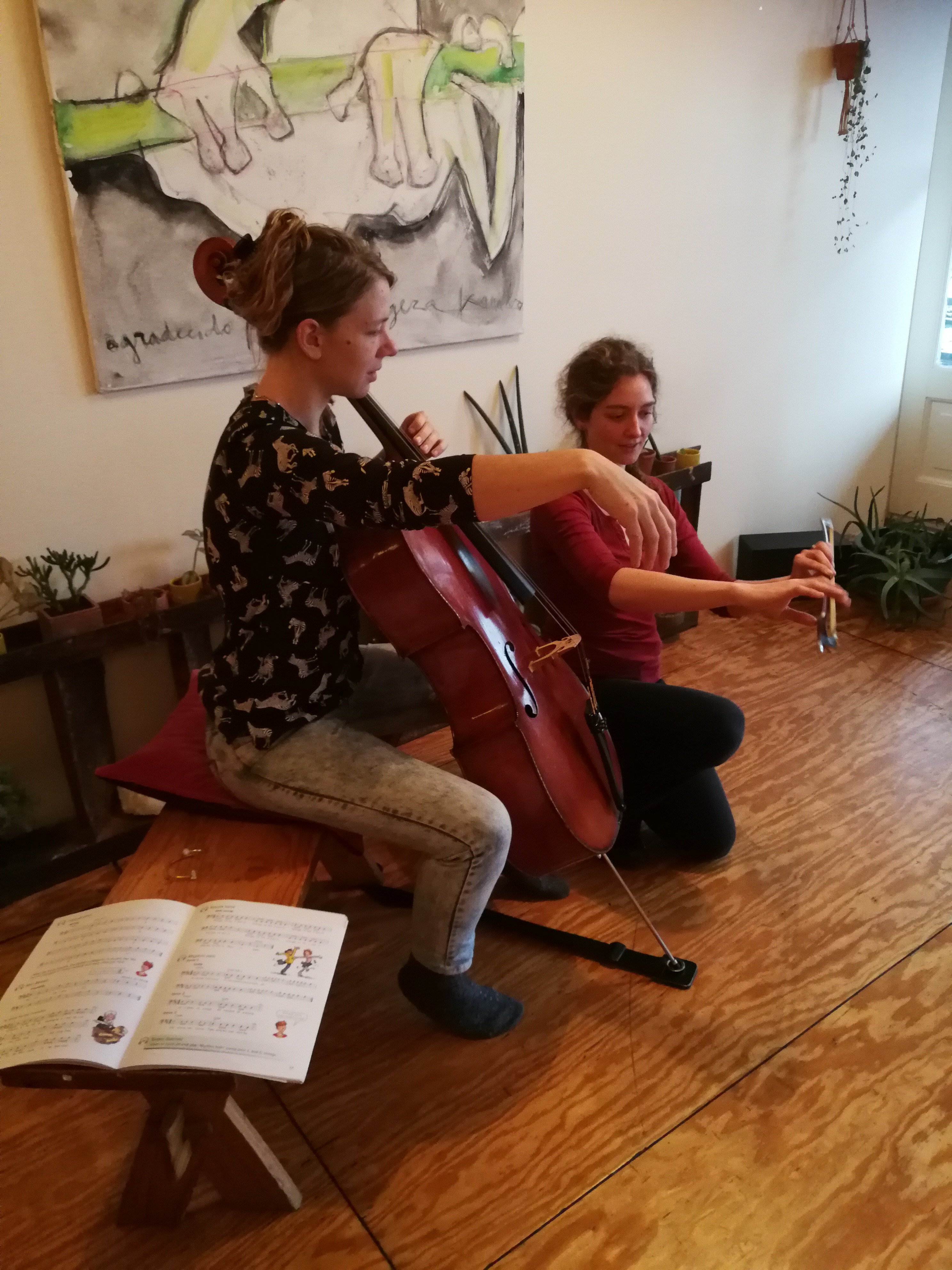 Introduction
Hi! My name is Wilma, and I'm a professional cellist. I've been playing the cello for most of my life. When I was 3 years old, I saw a woman playing cello on the street, and I fell in love. A year later I started with lessons, and I've been enjoying this gorgeous instrument ever since.
Playing an instrument is a great adventure, and one of the most valuable things in my life. For me, music is a way of expressing myself, and sharing positivity and inspiration with others.
I've been teaching for over 10 years, and enjoy teaching both children and adults. At the moment, my students are between the ages of 5-80 years, from absolute beginners to very advanced cellists.For young children, it's important that a parent can listen along to the lessons, and help them to practice at home. A child's lesson is different from a grown-up's: with children I do more games, to introduce them to music in a playful manner, and allow them to get comfortable with the technique without having to think about it too much. With children I also work more auditively, e.g. by playing and singing for them and letting them copy that instead of reading notes right away.For the first lesson, you don't need to have a cello yet, and you don't have to prepare anything. After the first lesson, I can give you information about renting a cello. This is possible from about 30 euros a month, at different places in Amsterdam.
I teach in Amsterdam on Tuesdays and Wednesdays, and in Zaandam on Thursdays. A lesson is 45 or 60 minutes. (For beginners, 45 minutes is usually long enough.)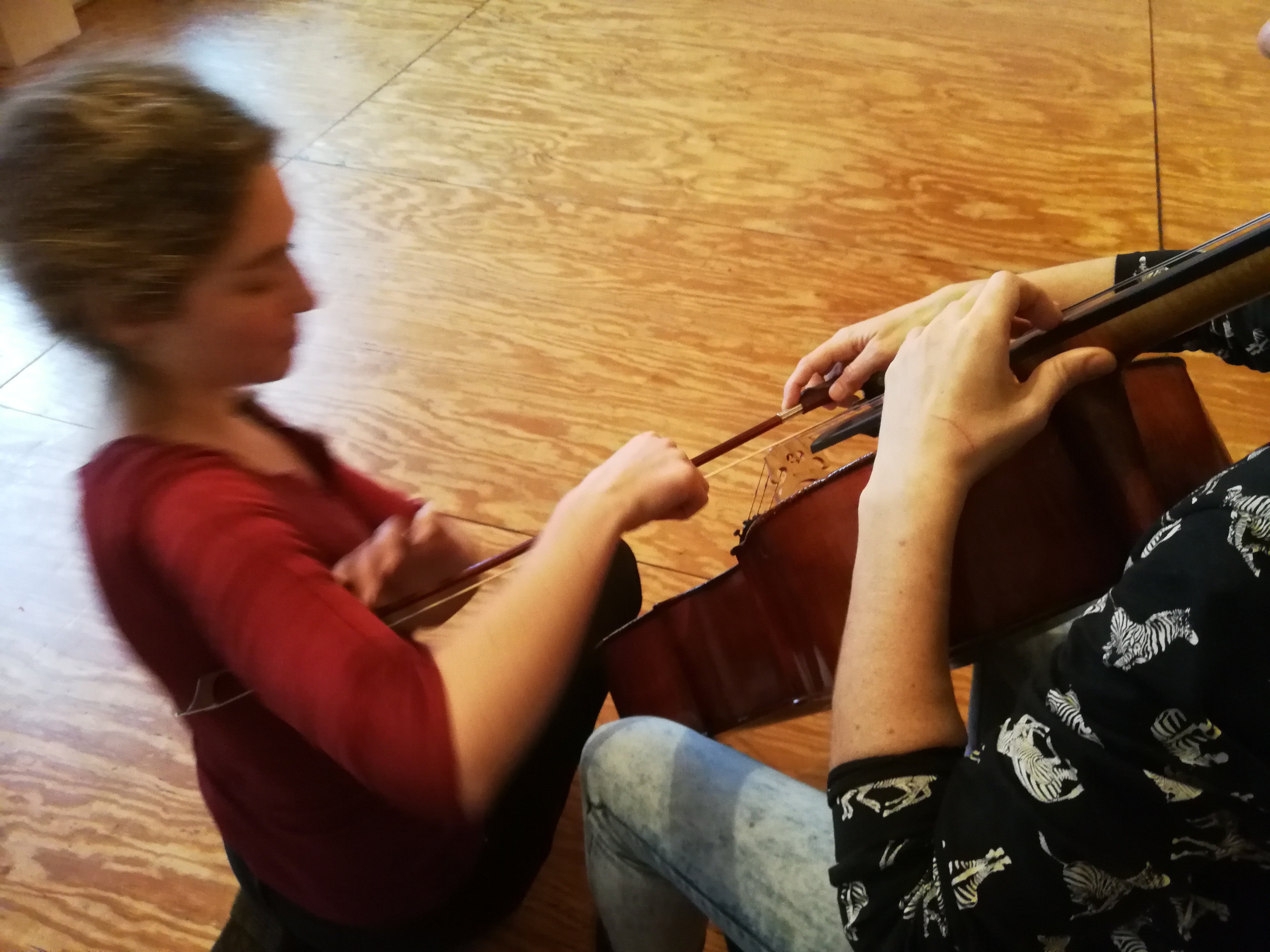 Cello lessons
– PLAYING TOGETHER and making music are important right from the start– There is space and attention for your input, wishes, and interests. It can be very motivating to play music you actually like!– I want to challenge and inspire each person on their own level.– As a teacher, I look for an approach that works for every student as an individual, and help my students to find their own way of learning/practicing.– Together, we investigate how you can get a naturally beautiful sound from your cello, with as little extra (muscular) tension as possible.– Through my own experience with (defeating) stage fright / performance anxiety, I appreciate the use of supporting my students in that, when necessary.– Classical music is my home ground, but I also enjoy playing jazz, world music, and pop.– I am also a composer! You can also take composition lessons from me, or simply bring along your creativity to your cello lessons. 🙂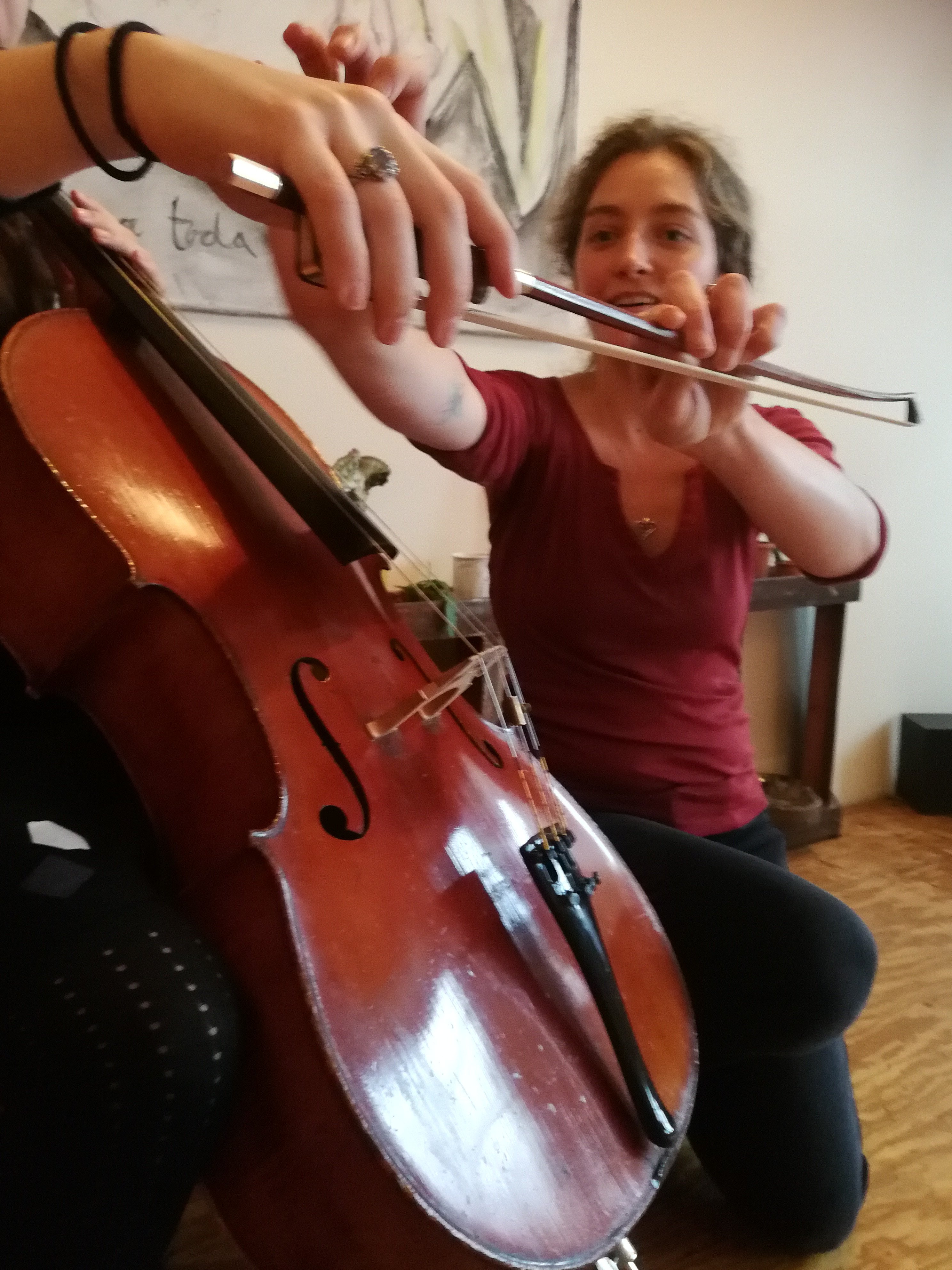 About me
I was born in South Africa, and moved to the Netherlands at an early age, where I've since lived with much pleasure.In 2014 I finished my Bachelor Cello cum laude at the Conservatory of Rotterdam.The year before (2013), I got my Bachelor diploma in Composition at the Conservatory of  Amsterdam.Beside being a cello teacher, I'm also an Alexander technique teacher. Alexander technique is a way of self-observation, where we look for a more comfortable way of moving and being, with less tension and pain. In my cello lessons, I pay attention to comfortable posture and an easy way of moving, to allow my students to play as comfortably as possible.I enjoy playing solo, and also love chamber music and improvisation. Besides being a teacher and a performing artist, I am also a composer! You can take composition lessons from me, or simply bring your creativity along to your cello lesson.
I teach in Dutch, English, and Afrikaans.
Above all, I love inspiring people, seeing them discover their own aptitude for music and growing as musicians. Playing the cello is a wonderful and fun experience and I heartily welcome anyone who would like to come on this adventure!If you're curious or you'd like to know more, please feel free to get in touch!