Introductie
Hallo! Ik ben Stanimir en ik heb een grote passie voor muziek en gitaar en ik ben een professionele gitarist en componist uit Bulgarije, gevestigd in Rotterdam. Als je muziek wilt leren, kan ik je mijn ervaring aanbieden in het lesgeven in gitaar, bas en compositie/muziektheorie. Ik bied lessen aan in het Engels, Bulgaars en Nederlands (momenteel bezig om dit te verbeteren).
I have a huge passion for music and guitar which has led me to explore the instrument in great depths. Sharing this knowledge with the world is something important to me and I am happy to have been doing it in the past 10 years. I can be useful to you in your studies of the guitar, bass guitar or other aspects of music such as theory and composition (which can be combined with the instrument lessons). in my long experience as a teacher I have worked with people of different ages and backgrounds, which wanted to study different styles of music, so I can be helpful with almost anything music/guitar related.
As a guitarist and composer, I am very versatille with backgrounds in classical, jazz, blues and rock music. My musical directions go far and wide and I play or have played many genres: jazz, rock, pop, classical, world music and improvised music. I have obtained a master's degree in jazz guitar at the Prince Claus Conservatoire in Groningen. There I researched the applications of counterpoint in guitar improvisation. I focus a lot on improvisation both as a composer and as a performer.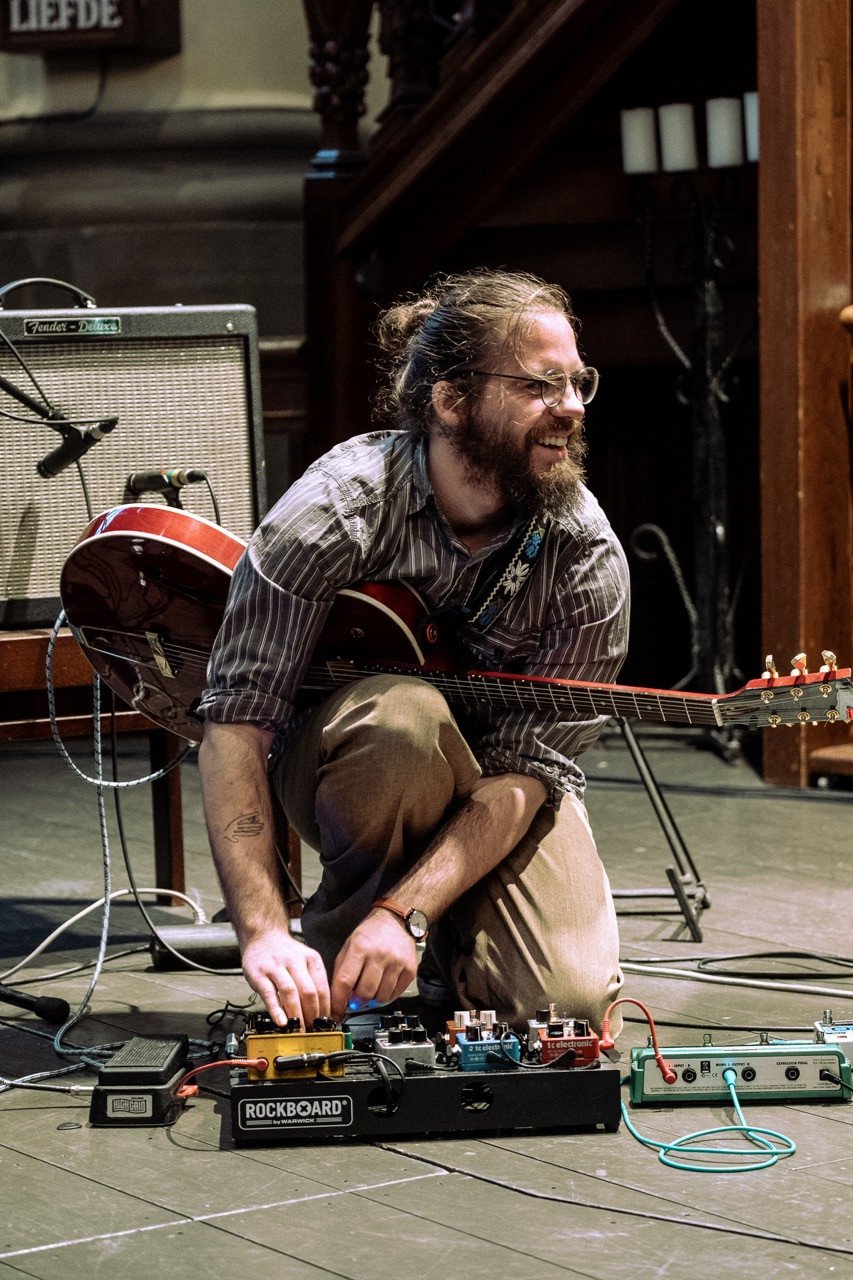 Gitaarles
As I mentioned above I have about 10 years of experience in teaching guitar. This instrument has been a passion for a very long time and I can help you understand it and unlock its secrets. The course is absolutely tailored to the indivirual needs of each student. Electric, acoustic or classical? Jazz, pop, metal, funk, blues? These choices are all up to you and your needs. In my experience as a guitarist I have studied and performed many genres. I have had about 4 years of intensive study of classical guitar, as well as a masters in jazz guitar. I can share all my knowledge with you and give you ideas in how to get better in whatever you want to do with the instrument. In my teaching experience I have backgrounds with people of almost all ages and walks of life. From 7 till 70. Beginners, intermediate or advanced musicians. In the lesson I can also include elements of other subjects such as music theory or composition if it's of your interest.
Enthousiast geworden?
Boek dan nu je proefles
Boek nu
Basgitaarles
I also offer lessons in bass guitar for beginners and intermediate players. My main instrument is guitar, but I also sometimes play bass in different situations or just for fun. I can help you with building a good technique on the instrument, getting a good sound out of it and give you some ideas of how to groove and create your own bass lines. The lessons are custom based for each student according to their needs.
Compositieles
In this course we discuss different ways of compositons, no matter the genre. I can show you my approahces and methods in composing music and we can explore together the outcomes and see what happens. It can be anything from writing a song, to creating a piece for a specific ensemble. I also offer ideas in how to arrange your compositon for different settings. As all of my lessons, this course is also focused on what the student needs. It can also be combined with the instrument lessons. 
Muziektheorie
In this course I focus on explaning the basic prinicples of how music is constructed. We can discuss different approaches depending on the interests of the student. My knowledge covers classical and jazz theory/harmony and solfege. Elements of this course can be included in the instrument lessons.