Introductie
Hallo, ik ben Nina, ik heb klassiek gitaar gestudeerd aan het conservatorium van Amsterdam, waar ik in 2006 afstudeerde. Sindsdien geef ik met veel plezier en voldoening gitaarles aan zowel kinderen vanaf een jaar of 6, als volwassenen.
In mijn lessen probeer ik zoveel mogelijk in te gaan op de wensen van de leerling, waarbij ik altijd wel benadruk dat het aanleren van een goede basistechniek voor de ontwikkeling van het gitaarspel erg belangrijk is. Een goede basis opent de weg naar vele stijlen, en verhoogt het plezier in het spelen. Hoe meer techniek hoe minder moeite, hoe minder moeite hoe meer ontspanning.
Muziek heeft vanaf mijn vroege jeugd altijd een belangrijke rol gespeeld, ik had het geluk dat er bij mij thuis nogal eens muzikanten over de vloer kwamen. Hierdoor wist ik al vroeg dat de gezellige sfeer die 'live' muziek met zich mee bracht mij erg aansprak. Het lag dan ook voor de hand dat ik zelf een muziekinstrument ging bespelen, het werd de gitaar. Een keuze waar ik tot op de dag van vandaag nog geen moment spijt heb gehad. Nog iedere dag geniet ik van het oefenen, en van het gevoel van vooruit gaan, een gevoel dat altijd maar door gaat.
Graag wil ik ook de wat ouderen, die er wellicht spijt van hebben dat ze vroeger geen instrument hebben leren spelen zeggen: "Aarzel niet, het is nooit te laat!" Boven de 50, boven de 60, ik heb gezien hoe ver je dan nog steeds kunt komen.
Wil je het een keer proberen? Een afspraak voor een proefles is zo gemaakt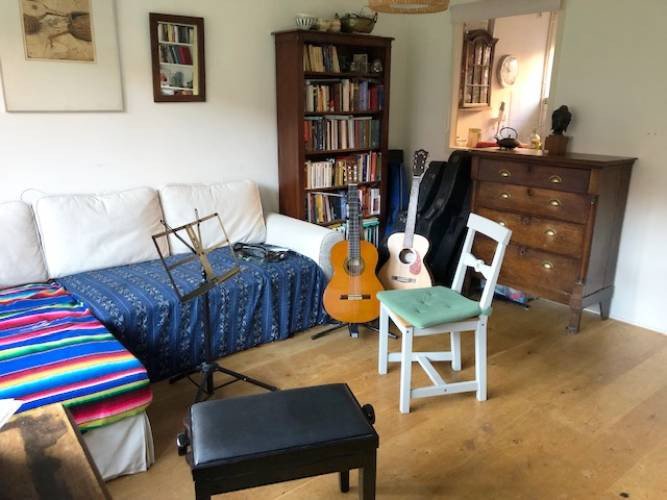 Gitaarles
De lessen zijn privé lessen, aangepast aan de wensen wat betreft stijl van de leerling, zoals bijvoorbeeld klassiek, pop of blues enzovoort.
——
Enthousiast geworden?
Boek dan nu je proefles
Boek nu
Introduction
Hi, my name is Nina and I studied classical guitar at the 'Conservatorium van Amsterdam'. In 2006 I graduated and since then I have enjoyed teaching children from the age of 6 and adults.
During the lessons I keep the wishes of the student in mind while also stressing that learning a sound basic technique is very important for the development of our guitar skills. A good technique opens the way to many styles and enhances the joy while playing. The better our technical skills, the easier it gets; the easier it gets, the more relaxation we feel.
Since my early childhood, music has played an important role, I was lucky in that we on and off had musicians staying with us. because of this I soon realized what joy it brings to have live music at home. Therefore it was a logical step for me to start learning a musical instrument, in my case the guitar. A decision I never regretted up to this day. Every day still I enjoy practicing, the feeling of progression, something that never stops.
To older people who feel sorry that they never learned to play an instrument when they were young,  I would like to say: "don't hesitate, you're never too old to start!". Even older the 50, 60 I have seen how far you can still get!
Guitar lessons
The lessons are private lessons, according to the wishes of the student for certain styles like classical, pop, blues etcetera.