Introductie
Hanny studeerde biologie in Amsterdam en klassieke zang in Groningen en Berlijn. Sindsdien heeft ze een ruime ervaring opgebouwd als zangcoach en zangeres. Zelf zingt ze tegenwoordig vooral als vrouwentenor. In haar lessen aan kinderen, jongvolwassenen en rijpere zangers werkt ze met klassieke en moderne stemmethoden waaronder Estill Voice Training (EVT). Hanny weet hoe je pop moet zingen, jazz of musical en ook barok of zelfs opera, alle stijlen kunnen worden verkend. Specialisaties zijn het begeleiden van vrouwen die als koortenor willen zingen en van mensen die willen werken aan hun spreekstem. Maar ook kinderen en jongvolwassenen zijn van harte welkom in haar zangstudio om een gezamenlijke ontdekkingsreis te beginnen: welke zanger of zangeres schuilt er in jou?
Zangles
Individuele lessen zijn heel persoonlijk. Als team gaan we samen op avontuur in een muzikale wereld die draait om jouw zangstem. Er is geen vast programma want dat hangt samen met ons doel en met alles wat we onderweg tegenkomen. Wil je ook handig worden op de piano? Zie onder "Pianoles". Welke muziekstijl trekt je aan? Houd je van samen muziek maken?  Wil je je voorbereiden op een auditie of optreden? Dit zijn allemaal opties die we kunnen onderzoeken. Thuis oefenen hoort natuurlijk bij het leren van een vaardigheid als zingen. Hanny heeft veel tips om je stemoefeningen zo in te plannen dat ze weinig tijd kosten en heerlijk zijn om te doen. Een keyboard of piano thuis is heel handig bij het instuderen van een nieuw lied. Er is altijd wel een kennis of familielid die een keyboard ongebruikt op de zolder heeft staan. Vraag of je die een tijdje mag lenen!
Het is fijn als je voor de proefles een lied voorbereidt, het liefst een stuk dat je uit het hoofd kent en graag zingt. Mag ook heel eenvoudig zijn zoals een kinderliedje!
Enthousiast geworden?
Boek dan nu je proefles
Boek nu
Pianoles
Piano spelen is niet gemakkelijk, maar het is zo leuk! ZZH helpt beginners praktische vaardigheden te ontwikkelen in het spelen van akkoorden en het begrijpen van de grondbeginselen van muziek. Zodra je enkele eenvoudige akkoordschema's onder de knie hebt, kun je in een mum van tijd een begeleiding spelen! Of nog uitdagender: schrijf je eigen 'song'…. Pianolessen van ZZH zijn bedoeld als hulpmiddel voor zanger(e)s(sen). Maar als het je droom is om dit prachtige en veelzijdige instrument te leren bespelen, kunnen we de pianomethode van Hal Leonard Student Piano Library verkennen. Deze methode bevat verrassende begeleidingen die het thuis oefenen tot een feestje maken. Een moment waar je iedere dag naar uit zult kijken!
Introduction
Hanny studied biology at the Free University in Amsterdam and classical singing at the Conservatory in Groningen. Over the years she has developed extensive skills in teaching and performing in a wide repertoire. Currently Hanny sings as a female tenor and organizes courses regularly for women who like to sing choral tenor parts. In her lessons she works with classical and modern voice methods including Estill Voice Training which will improve the speaking voice as well. Hanny knows what it takes to sing Pop, Jazz or Musical and even genres such as Baroque and Opera. Any musical style can be explored.Children and young adults are also very welcome in her singing studio to start a joint adventure: Can we find and 'free' the singer in you?
Vocal lessons
Individual lessons are very personal. As a team we will start on a journey together in a world full of music and sounds that revolves around your singing voice. There is no fixed program because it depends on our goals and on anything we 'll meet along the way. Do you want to become handy in playing the piano? See under "Piano lessons' Which style of music attracts you most? Do you enjoy playing music together? All of these are options we can explore. Practicing at home is essential in developing singing skills. You will be guided intensively in planning your exercises in such a way that they take little time and are wonderful to do. A keyboard or piano at home makes it easier to learn a new song and it will help you during your singing practice. There is always someone in your network who keeps a keyboard on the attic collecting dust. Ask the person if you can borrow it for some time!
Please prepare a song you like and preferably know by heart for our first session, thank you!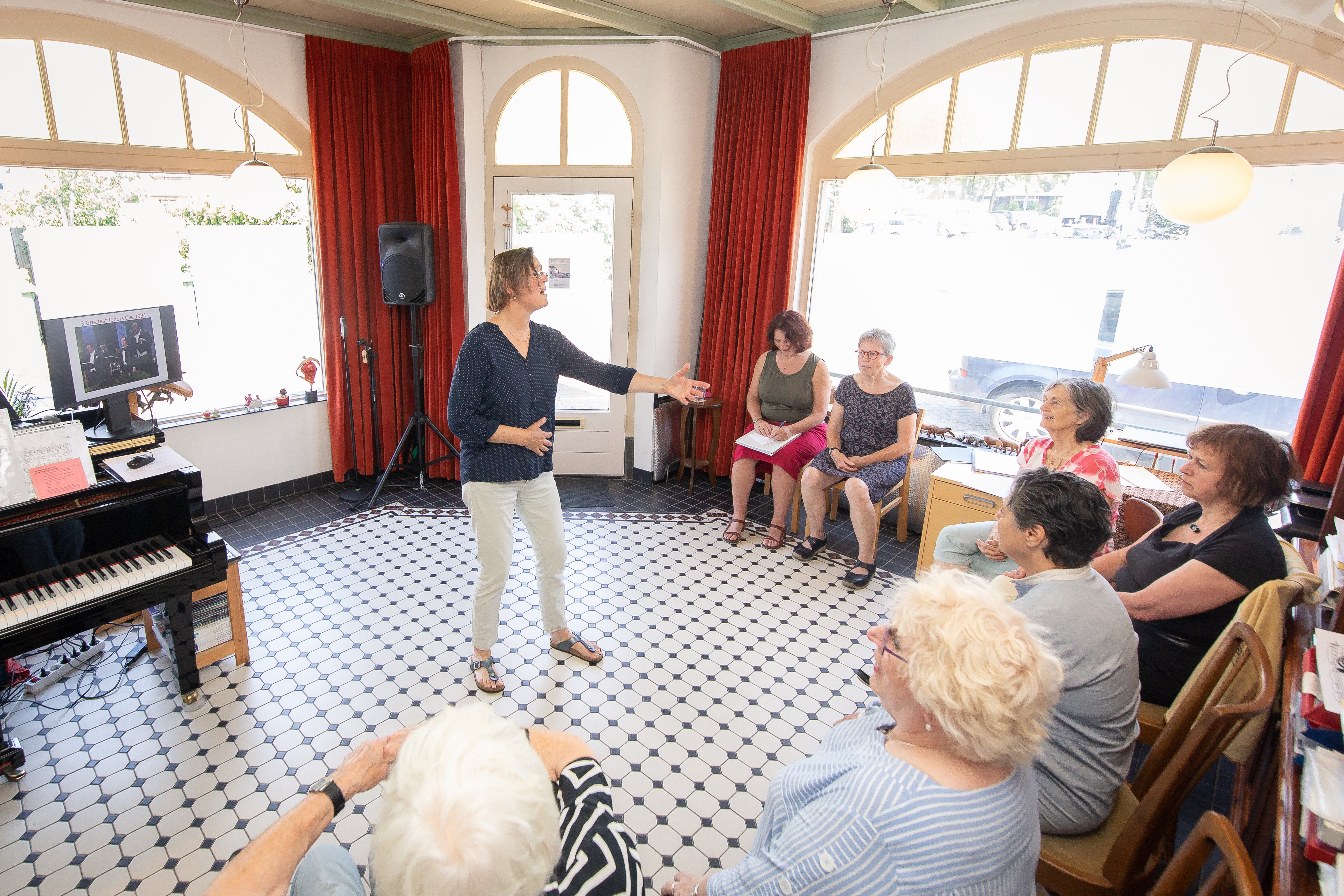 Piano lessons
Playing the piano is not easy, but it is so much fun! ZZH helps beginners to develop practical skills in playing chords and understanding the basics of music. Once you know some simple chord schemes you will be able to play a song in no time! Or even more challenging: you can write your own piece of music…. Piano lessons from ZZH are meant as an assisting tool for singers. However when it is your dream to play this beautiful and versatile instrument well, we might explore the piano method of Hal Leonard Student Piano Library. This method contains surprising accompaniments that will bring joy to practicing the piano at home; a moment you will look forward to every day!