About me
Hello everybody! Welcome to my profile!
Have you always wanted to know more about rhythm, percussion and drums? Then you are in the right place! :)
My name is Giovanni Molinari, I'm an italian percussionist currently living in The Netherlands. Rhythm has flowed in my veins since I was a kid, when my mother bought me an african drum on the beach. Since then, I never stopped playing and studying with teachers around Italy, until I came to the Netherlands and continued my studies at Codarts music school, where I'm studying Latin music. 
Music is something that can really change your life, whether this is going to be your job or just a passion!
Music, but especially rhythm, is everywhere: walking is rhythm, the heartbeat is rhythm, everything we do is actually related to rhythm and it's never too late to start exploring this fantastic world.
Do you find yourself staring at drummers and percussionists wondering how they make those crazy fills and rhythms? Do you want to learn step by step how to develop your rhythmic instinct? I'm here to guide you through a journey that will lead you to understand and play different instruments and music styles, starting from your interests and suggestions.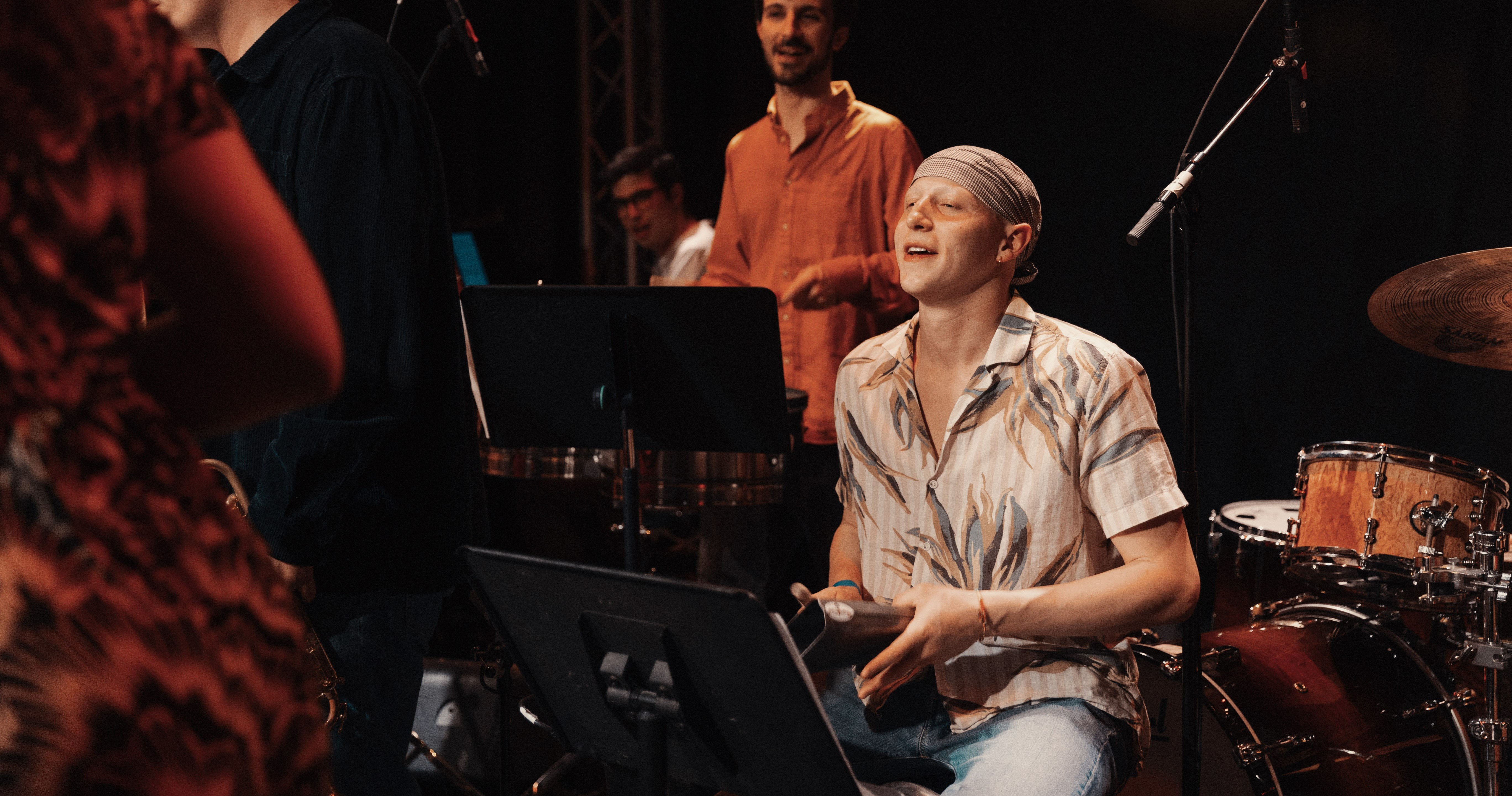 Lessons
The purpose of my lesson is to make something fun out of the tools and instruments we have, but always maintaining a clear direction, based on the level of the student. My focus is to share the experience and knowledge I accumulated in my whole life, trying to stimulate curiosity in every person that comes to my lesson as well as pushing him or her to understand what are his or her visions and purposes.
I hope I can transmit to you the passion I have for music and rhythm.
If you're a beginner, we will start making some fun games in order to start developing you rhythmic instinct and to connect with the music pulse and flow. We will mix these with the practical part, starting to apply the things we learn on some instruments and to build aconnection with them. You will see how fast you can improve and start to have fun with percussion!
To get into this world, it's essential to start from the study of the technique, as sound is very important when it comes to play percussion. Also, a good technique helps you avoiding any physical pain that might occur if you don't know how to put your hands properly on the different instruments. Every type of percussion has its own technique but there are some tools that, once you master them, are going to make your life way easier when you switch between different instruments.
Step by step we will move forward, learning rhythms, patterns, styles, which will eventually lead us to explore the wonderful world of improvisation, an essential step for everyone who want to make a qualitative jump in the studying of any percussive instrument.
I have some years of experience in teaching private lessons and all the times I'm impressed with the skills and passion that my students put in my lessons. This is why I love teaching to students of all ages and levels, because everybody can bring something special coming from his own personal experience. 
Looking forward to start this musical journey together! :)
Enthousiast geworden?
Boek dan nu je proefles
Boek nu
Current projects
At the moment I'm playing with many bands all around Netherlands, such as Ripa Na Tulipa, Conjunto Papa Upa, Zucchini collective, La Reuniòn among many others.
I would love to see you at one of my concerts as well!
Percussieles
Percussion is a real broad world, it includes all kinds of different instruments, from the smallest to the biggest, from the lightest to the strongest. There are really a lot of percussive instruments that are used either as the core of the rhythm section or also as colours that help the tune to sound better, giving a different taste to the whole thing.
Shaker, tambourine, bells, timpanis, djembe, maracas: these are examples of other types of percussion that are very fun to play and produce all types of craziest sounds and effects.
It's very important for beginners to get to know and play different types of percussion and let their creativity go freely with the music, thanks to all these sounds that percussion offers. 
I'm going to show you how you can play all these instruments and have fun with them in different musical contexts. Trust me, it's going to be really fun!
Latin percussieles
Latin music is the field I explored and studied the most, especially music coming from Cuba and Brazil: two different and at the same time similar worlds that boast an incredible and extremely interesting music culture. 
In western music we are used to think that drums are mostly accompanying what it's happening in the music, whereas in those cultures, the percussive part represents the origin and THE CENTER of the music: the source over which the music developed during the decades. Sometimes people underestimate the role of percussion in music, but there is a whole world behind it which is amazing and connected to the roots of many kinds of music we listen to nowadays.
Talking about Cuban music, my main instruments are congas, bongos and timbales, together with all small percussion (guiro, maracas, clave, shekere). I will guide you through the different music styles that developed in this wonderful island during the past 200 years, such as salsa, son, rumba, cha-cha-cha, mambo, songo among many others.
About the Brazilian side, I can teach you how to learn to play the pandeiro, in all its different styles and rhythms, together with the timbau, the repique, the dobras, the surdo and many other instruments that belong to this amazing tradition.
Cajonles
And here it comes the most versatile percussion ever: the cajon!
Originally coming from Perù, this fascinating instrument is very fun and quite easy to play and it can be used in a lot of different genres. Actually it can really work as a substitute for the drums! I have quite a lot of experience playing cajon, I recorded an album with this instrument and I played it a lot in gigs and on the street. If you're a beginner and you want to have fun playing percussion, this instrument is the right one for you to get started! 
Drumles
Another big name of the rhythm section: the drums!
I will be happy to guide you through the study of this marvelous instrument as well, starting from the basic techniques, the different sounds and stick control exercises. 
We will move on gradually, playing over tunes that you like and learning different genres and different rhythms. 
Although drums is not my main instrument, I've been studying it for some years and I always love to sit down and play with the endless rhythmic possibilities that this instrument gives.