Introduction
Hello! My name is Aurel and I am a French Amsterdam-based drummer.
Although currently specialized in Jazz music, I have studied various esthetics, and Pop and Rock music, in particular, are part of my background (I played in several pop-rock bands). Therefore I am able to teach a broad panel of music styles. I also have many drum methods and charts at my disposal, and have experience in teaching children from the age of 6, as well as teenagers and adults. My pedagogical approach is characterized by adaptability and open-mindedness, helping students to define and pursue their own goals, while providing thorough monitoring.
Picture: Eat Mielies Photography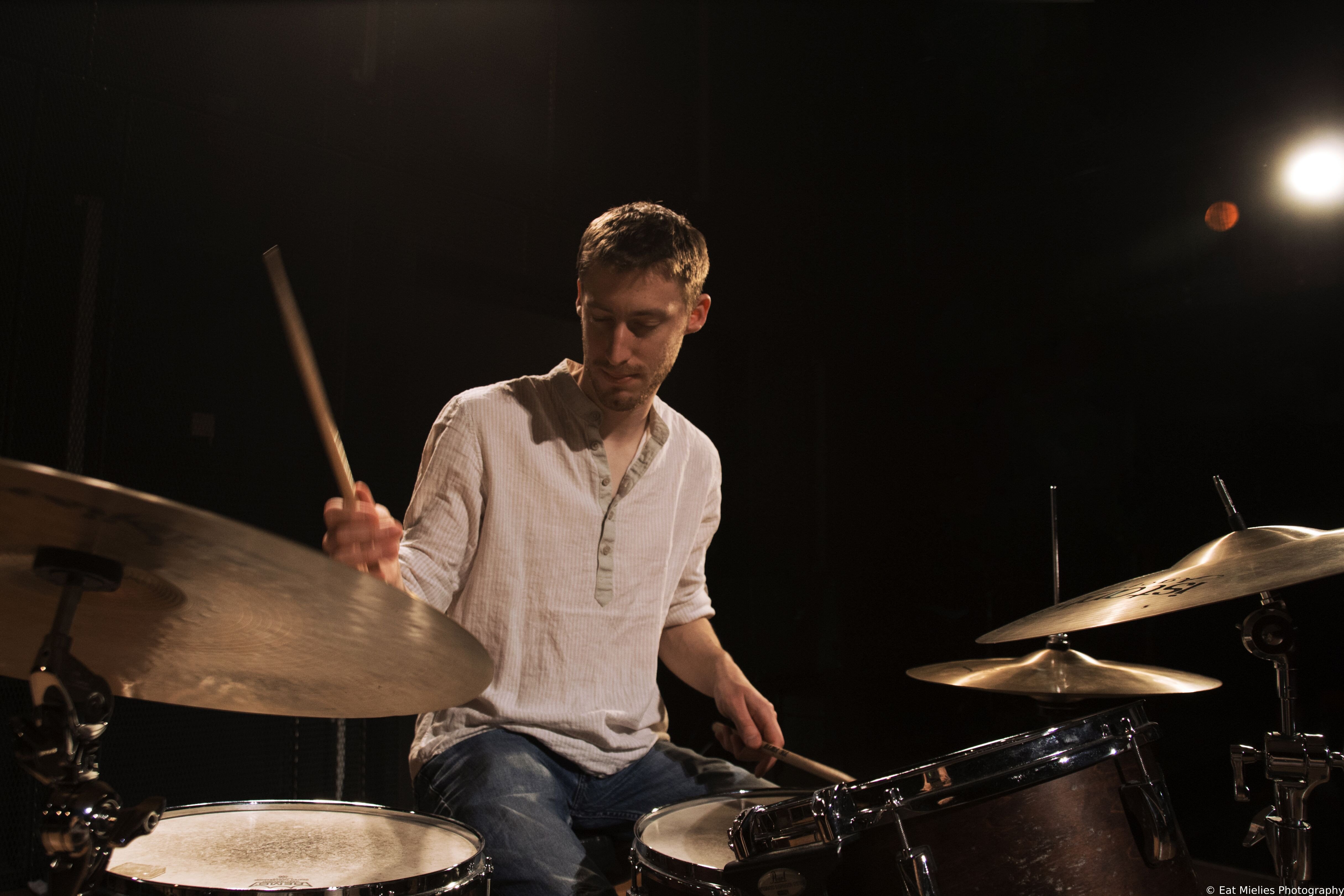 As a professional musician
I am also an active musician, both on the Dutch and the French scene. My trio mainly tours in France and has played at venues such as the Sunside (Paris), or participated in competitions like the Keep An Eye International Jazz Award. I am also the co-leader of jazz sextet Chai Masters, finalist of several European competitions (Keep An Eye The Records, Leiden Jazz Award, Golden Jazz Trophy in Lille, France, 7 Virtual Jazz Contest).
Enthousiast geworden?
Boek dan nu je proefles
Boek nu
Drumles
In addition to my jazz drums bachelor and master degrees from the conservatory of Amsterdam (CvA), which included a thorough pedagogical training and a specialization in Indian Karnatic techniques, I benefit from 4 years of experience as an employed drum teacher in two French associative music schools (Ecole de musique de Nangis and Conservatoire des Deux Rives, Moret-sur-Loing). Besides that, I have been teaching privately in Amsterdam for a year.
I always adapt to the student's tastes and learning profiles. This is why, during the first lesson, and on a regular basis afterwards, I always take time to discuss with my students (or their parents if they are very young) to figure out together the path they want or need to follow. I will use charts and methods for those who need visual support to assimilate the skills or teach by ear and by demonstrating to the ones who feel more comfortable this way. I also play electric guitar and can jam with my students, which is a great tool for developing band playing skills or simply to have a good time.
For those eager to make significant progress, I offer consistent and serious monitoring, with practice recommendations. I can for instance prepare a student for an audition or an entrance exam in a conservatory. If you are willing to improve your understanding of rhythm in general, you can also benefit from my knowledge of Indian Karnatic rhythm concepts, one of the most complete traditional approaches to rhythm.Students who simply want to learn at their pace, to have fun and unwind, are definitely welcome too!
It is recommended to bring sticks to the trial lesson, but I can lend one of my pairs without problem.
Looking forward to meeting you and passing on my know-how to you!
Picture: Eat Mielies Photography