Introduction
Alexander Baboian is a seasoned guitarist, composer and educator from the US based in the Netherlands. He has been described by renowned music educator Hal Crook in JazzWax as a "future major voice in Jazz," and by All About Jazz as "a superb composer, an original improviser, and an apt bandleader." He holds a bachelor's degree in guitar performance from the renowned Berklee College of Music where he was awarded the performance division achievement award twice, and master's degrees from Yerevan State Conservatory and Royal Conservatoire Antwerp where he studied Jazz, Composition and Electronic music. 
Alexander has appeared at major venues in America, Europe and Asia such as The Kennedy Center, The Bohemian Caverns, Scullers, MIT and Harvard University Radio WHRB (US), A-Trane, B-Flat, Kunstfabrik Schlott (DE), The Music Village, The Hotclub Gent (BE), The Bimhuis (NE), Opus Jazz Club (HU), Cafesjian Center for the Arts (AM), Ogikubo Velvet Sun (JP), and All That Jazz (KR) as well as festivals such as the DC Jazz Festival, JEN Jazz Conference, Beantown Jazz Festival (US), Morgenland Festival, Fusion Festival (DE), Lamantin Jazz Festival (HU), and the Goldon Apricot Film Festival (AM). His debut album as a leader Curiosity (2014) was described by Hrayr Attarian at All About Jazz as "an intimate, contemplative and supremely lyrical work... sonic poetry."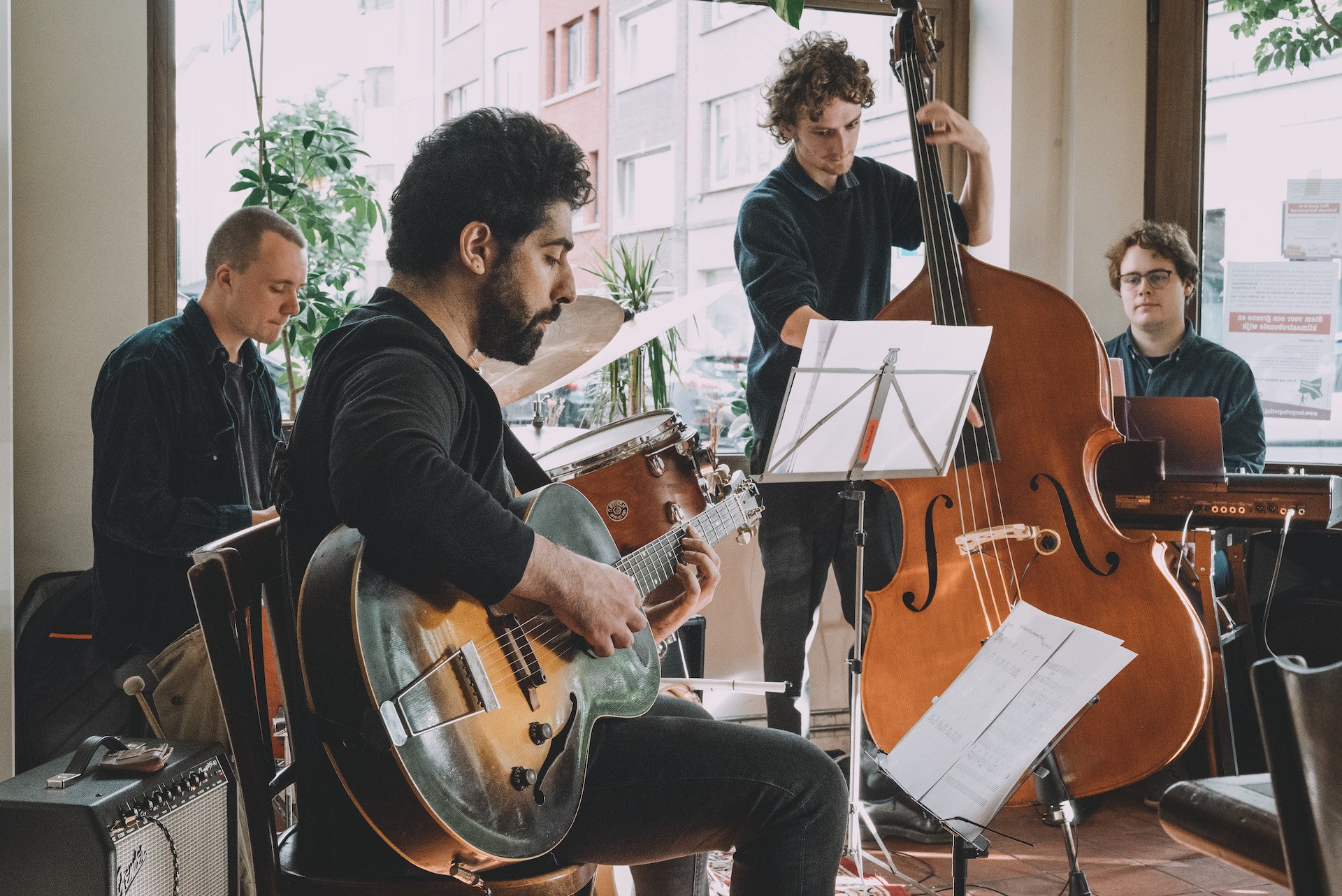 Gitaarles
Dear Music Students,
I am an American guitarist, composer, and educator from the US newly relocated to South Holland and offering music lessons. I did my bachelor's in guitar performance from Berklee College of Music where I specialized in Jazz, and hold master's degrees from Yerevan State Conservatory and Royal Conservatoire Antwerp where I specialized in Composition and Electronic music.
While my background is in Jazz and I approach music from this perspective I am quite open minded and happy to work with students at a variety of levels of experience, stylistic backgrounds and interests. Whether you are new to music and to the guitar and want to strum the chords to some simple songs and learn to read music or advanced techniques and Jazz repertoire I'm sure with my background, education and experience that I can help you.
Topics I like to focus on include:
Using Good Guitar technique, Improving Understanding of Music Theory, Improving Reading and Writing Musical Notation, Learning how to Improvise and Solo, Repertoire in Various Styles,  Performance Practice and Ensemble Playing, University/Conservatory Preparation and Tutoring.
I do understand a bit of Dutch but I don't speak well yet so my lessons are taught in English.
Eventually, I may have a studio space where my lessons can be held but for the time being it's best if I can come to your location if you have a suitable one available.
You can find out more about me at my website: www.alexanderbaboian.com
Please feel free to get in touch with any questions or to express interest. Looking forward to working with you and wishing you all the best on your musical journey!
Sincerely, Alexander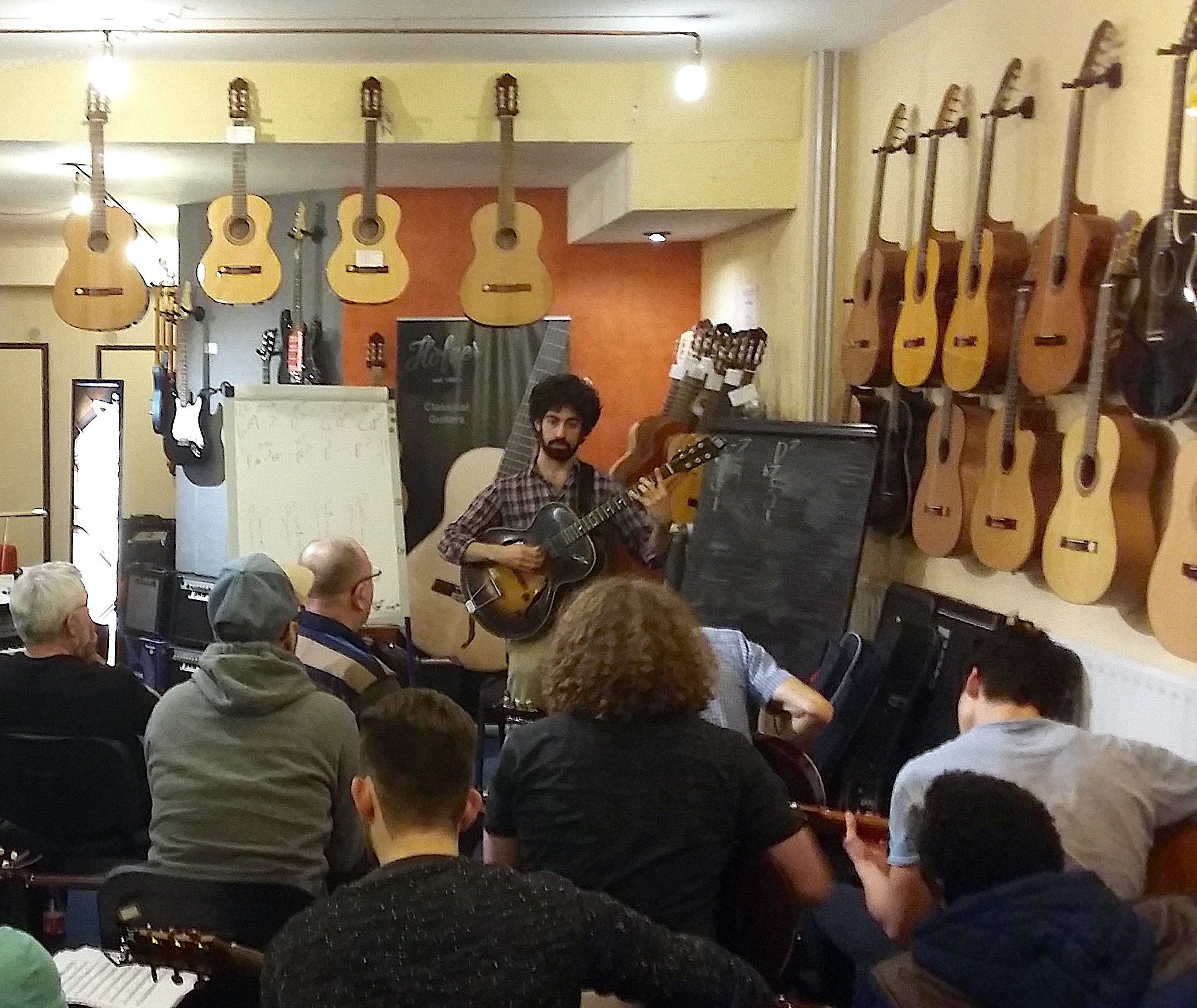 Enthousiast geworden?
Boek dan nu je proefles
Boek nu