Introduction
Hello! I am Myrto and I am a pianist and composer from Greece and currently based in The Hague! After completing my studies I discovered that teaching music is really fascinating for me and it is not just a second option. Sharing my knowledge and passion about music brings a real communication between teacher and pupil and this relation is inspiring and refreshing.
I started my music and piano studies at 6 while my late studies are on music composition and computer music. My works by ensembles, soloists and orchestras in Greece, Spain, Italy, Belgium, USA and the Netherlands, while I have participated in a number of multidisciplinary projects and have collaborated with dancers, film directors, actors, painters and others. Besides composing, I am also active both as a pianist and keyboard player and I have been member of various music projects in Greece and the Netherlands (SEE improvisation ensemble, classical chamber music projects with various local artists, and others).
I truly believe that music is an expressive language that everyone should have the access to learn and communicate through and my goal as a music teacher is to bring you closer to this magnificent world. I have a five years teaching experience with students of diverse age groups, (4-60 years old). Regardless your level, age and background I would love to guide you to learn how to play the piano or improve your existing skills, to train your ears to listen and sing better but also how to make your own pieces or songs.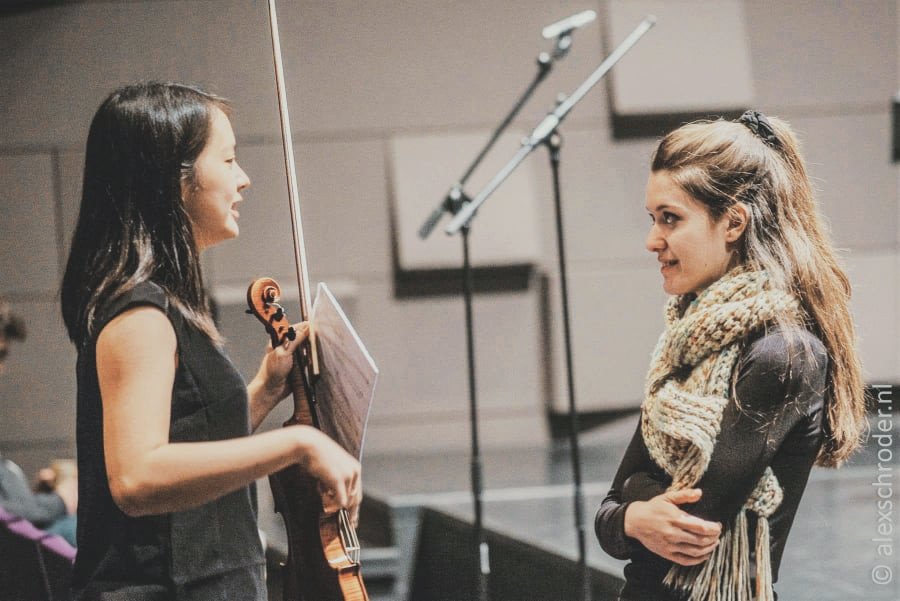 Piano lessons (classical, contemporary)
The structure and the material of the lesson are formulated based on every pupil and his/her preferences while at the same time it can also be configured according to established music and piano methods. I also love to encourage my pupils to share their passion about specific music styles or pieces with me, in order to include them in the teaching process, by arranging them based on their skills. Important section of the course is the improvisation which aims to the independence of the pupil from the music score, the mastering of technical difficulties but also to the development of pupil's creative thinking.
Teaching preschool kids (4-6) is always a challenge but through my experience I have formulated a method in which the young pupils approach music with an enjoyful way. Through my guidance they become familiar with rhythm, ear training, singing, playing by heart short melodies with both hands, improvising, and at later stages they get introduced to music notation through games, drawing and other formats.
For adults: Except from classical and contemporary piano, you can also learn the use of midi-keyboard and Ableton Live. In this course you can learn how to map your midi keyboard through Ableton Live, how to use different VSTs into the software and how to record yourself in order to make your own production at home. I use the Novation LaunchKey 61 MK3 USB/MIDI keyboard.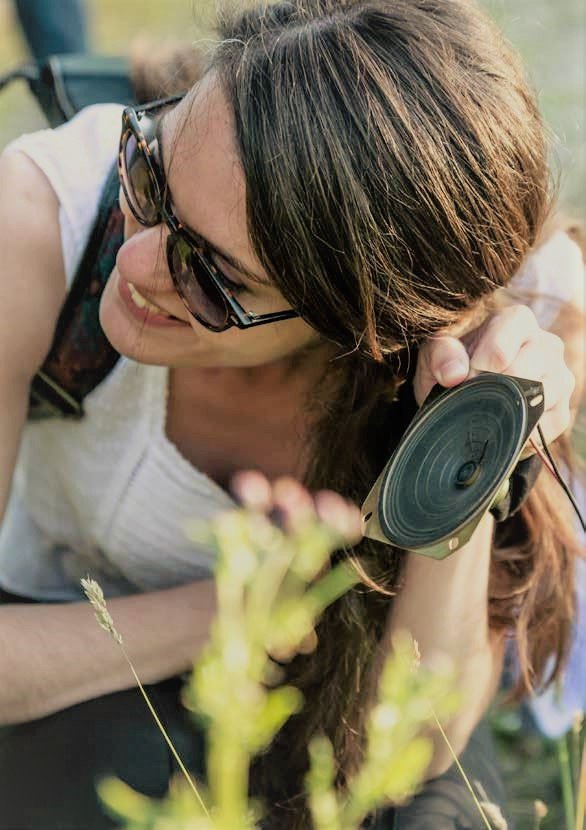 Enthousiast geworden?
Boek dan nu je proefles
Boek nu
Composition, Songwriting, Arranging
The structure of the lesson is based on the pupil's preference in music style, instrument combinations and others. We will talk about the harmony, rhythm and form while the pupil will be asked to create his/her own short works/songs. I always find fascinating to analyze music of the past (for example some of your favorite songs, instrumental works and others) in order to gain a deeper understanding of how these were created and from what musical ingredients they consist. Furthermore, integral part of this course is the understanding of the possibilities of each instrument and the combination of more than one.
In this course, you can also learn how to use music notation softwares such as Finale and Musescore in order to notate your own music easily and fast.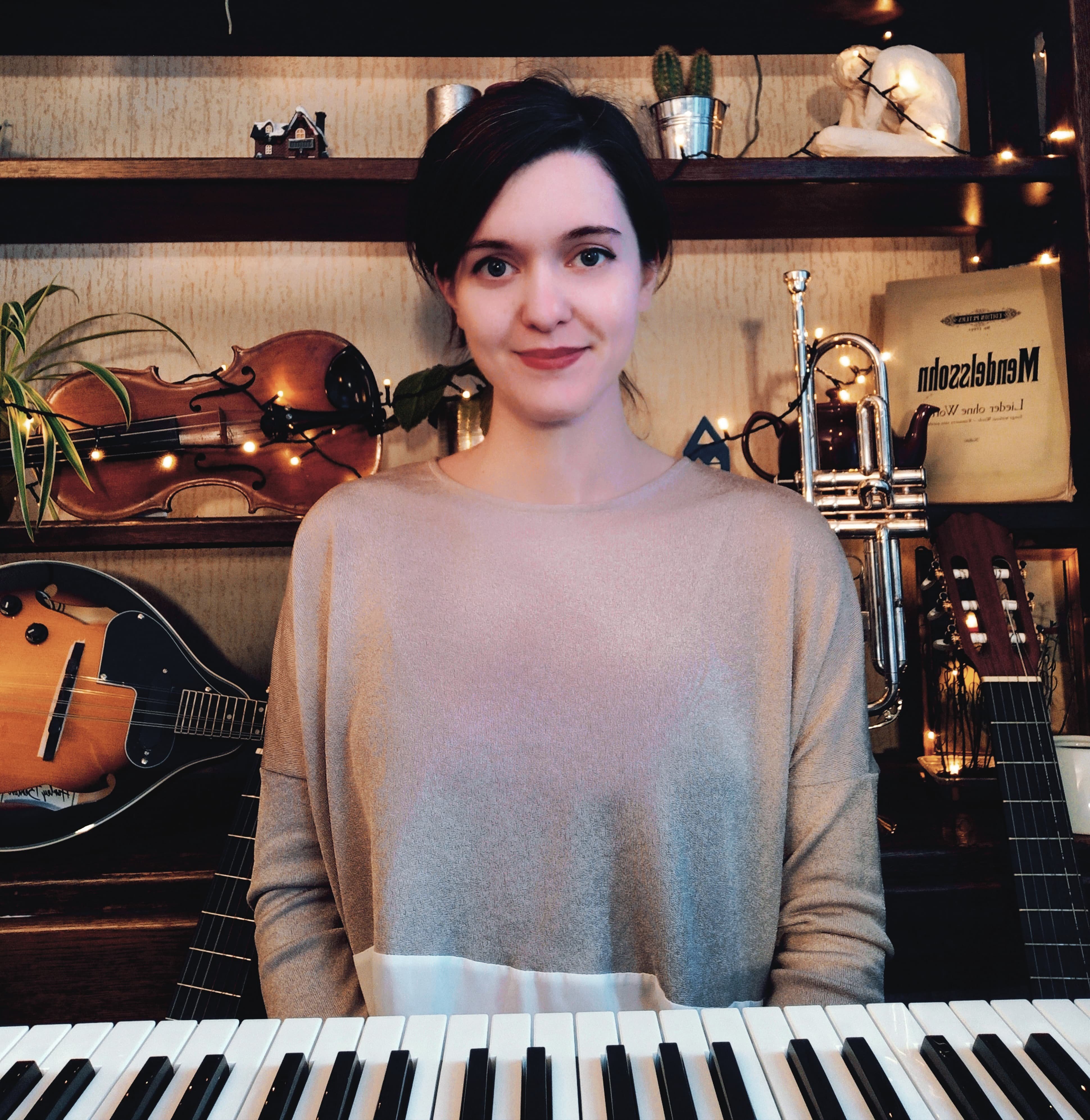 Studies
One Year Course in Sonology Institute – electroacoustic composition, Den Haag, NL (2021-2022)• Master of Music, Composition at the Koninklijk Conservatorium, Den Haag, NL (2018-2020)• Bachelor of Music, Composition at the Department of Music Science and Art, UOM, GR (2012-2016)• Piano Degree, Conservatory Franz Liszt, GR (2013)• Fugue and Orchestration Degree, State Conservatory, GR (2018)• Harmony and Counterpoint Degrees (2009 and 2015)
Extra qualifications:Masterclasses and workshops in Composition, Music Pedagogy, Piano performance, Choral singing and others.