Introductie
Hoi! Mijn naam is Matteo. Ik ben een professionele bassist, componist en improvisator uit Brussel, Belgie. Mijn liefde voor muziek begon heel jong, door de discografie van mijn ouders en hun liefde voor allerlei soorten muziek. Ik begon bas te spelen toen ik 12 was, en sloot me al snel aan bij bands die allerlei soorten muziek speelden.
Mijn passie voor muziek bracht me ertoe om naar het Koninklijk Conservatorium van Brussel te gaan om jazz basgitaar te studeren. Daarna heb ik mijn studie vervolgd aan het Conservatorium van Amsterdam, waar ik een bachelor en een master heb behaald.
De lessen kunnen in het Nederlands zijn, maar ik spreek het niet helemaal vloeiend. Ze kunnen ook in het Engels, Frans en Portugees zijn. 
Experience as a musician
I am active internationally as a professional bass player, mostly focusing on creative music and playing with renowned European musicians. I have played in venues and festivals across the world (France, Belgium, Luxembourg, Portugal, Denmark, USA...). 
As a composer, I have recently started my own project "Tumult", blending my love for improvisation with different genres, such as post-rock and ambient. 
Enthousiast geworden?
Boek dan nu je proefles
Boek nu
Basgitaarles
Whether you are a complete beginner or an advanced player trying to expand on very specific topics, I am here to help you become a better musician and fall in love with the bass.I believe the best way to learn music is to study what you love and be passionate.
Therefore, we will always look together for ways of making the process the most enjoyable and tackle different topics through your favorite artists. The classes are tailored to each individual student: we find the best work flow for you, and adapt the lessons. If you need structure and a clear program, I can provide that; but if you prefer to keep it loose and see as we go, it's all good. All that matters if your continued motivation and progress.
Among other things, we can focus on:
-Basic technique on the instrument-
Learning songs of your choice, with a method that will allow you to learn songs by yourself later on.
-Learn about different styles: Pop, Rock, Funk, Soul, Metal, Jazz...
-Develop your understanding of music through the instrument (scales, arpeggios...)
-Creativity, and improvisation through the use of the material we have studied together-
I have been teaching privately for the past 6 years, with very happy students. I can also teach online if it's better, I also have regular online students with whom we are making great progress.
For the trial lesson, there is no need to bring an instrument: I can lend you one. I also have a smaller bass that fits younger children better.
The lessons can be in Dutch if preferred, but I am not perfectly fluent. Besides English, I am also perfectly fluent in French and Portuguese.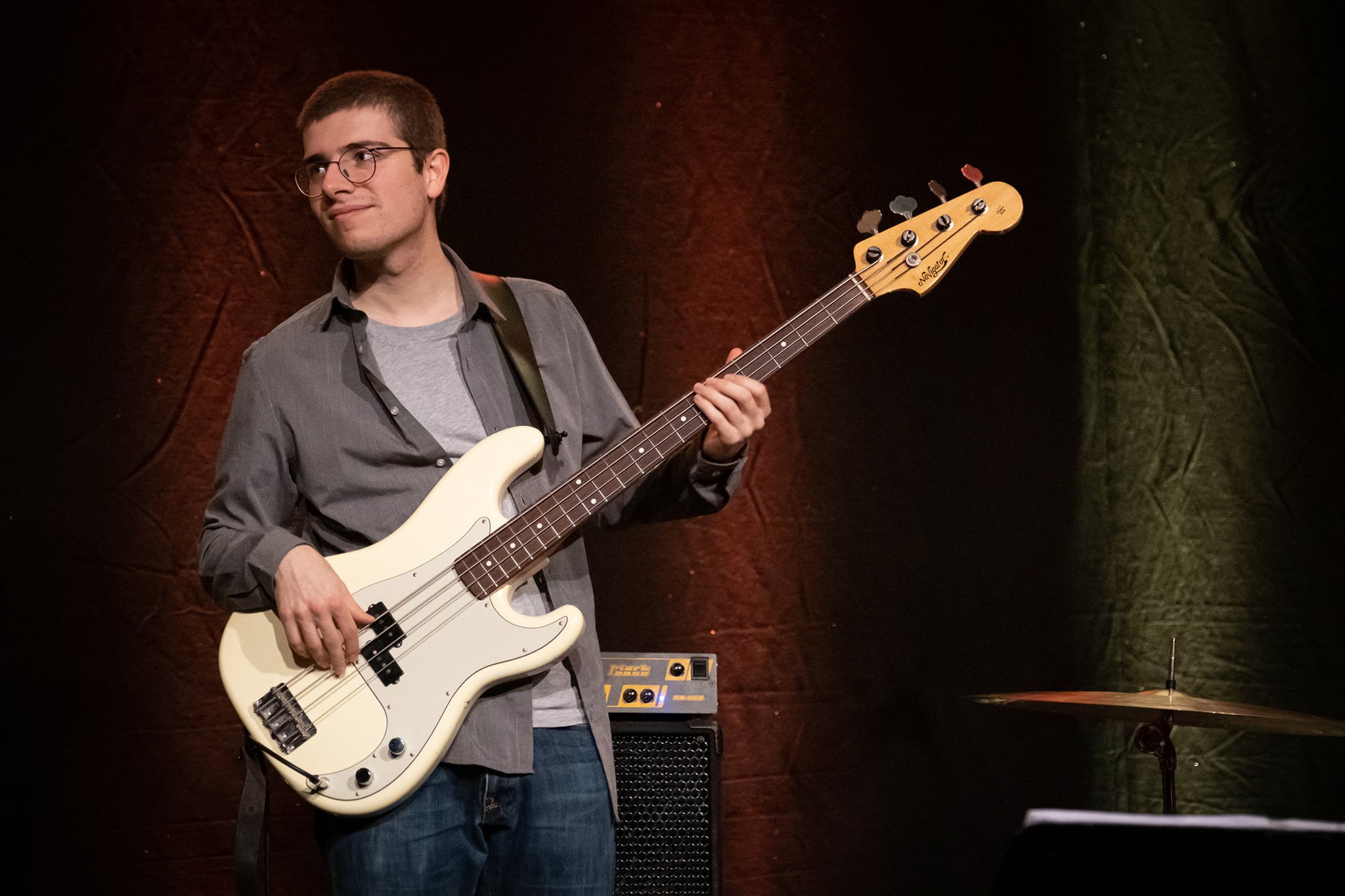 Muziektheorie
While I belive the key to enjoying music is to play it and approach it in an instinctive and passionate way, learning music theory can help you understand what you hear and ultimately make you a better musician.
This course can be for total beginners to advanced players, trying to learn more complex concepts or looking to go study at the Conservatory.
First we will look at:
- Basic solfege: learn the notes, their relationship to each other, and what they sound like.
- Reading music
- Rhythmic solfege: learning how to read and write rhythm
- Scales, and recognizing intervals
If you are more advanced, we can of course go deeper into certain things, for example: Jazz harmony, tonal and non-tonal concepts, South-Indian Karnatic Rhythms...
Compositieles
Besides playing bass, I also spend a lot of time composing and I would love to help you develop this side of your musicality.
In the composition lessons, we demistify the process by approaching composition in different ways:
- Analazying compositions by the artists you like
- Doing composition exercies, to get used to writing
- Learn different composing techniques
- Look at your own ideas and see how we can develop and refine them