Introductie
'Inspireren is het allerbelangrijkste!'
Hoi! Mijn naam is David Aelmans (1994), ik kom uit Eindhoven, en ik geef gitaar- en ukelelelessen voor diverse scholen in heel Noord-Brabant.Zelf ben ik ooit begonnen met gitaarspelen omdat het geluid van Iron Maiden, AC/DC en de rest wat er in mijn vaders platenkast te vinden was mij als klein kind al aansprak. Ik nam les op de lokale muziekschool, begon met het spelen in bandjes en iets later besloot ik muziek te gaan studeren.
Nu, inmiddels zo'n 15 jaar later, geef ik les aan ongeveer 20 leerlingen in de week. Ik hoop mijn leerlingen te kunnen inspireren op dezelfde manier als dat mijn leraren dat vroeger voor mij gedaan hebben. Muziek is een van de mooiste dingen die er zijn in het leven, en of je nu de nieuwe Jimi Hendrix wordt of er gewoon heel veel plezier uit haalt: Ik hoop dat ik je kan helpen bij het leren gitaarspelen!
Naast dat ik actief ben als docent, ben ik ook sessiegitarist. Wekelijks ben ik te vinden in diverse studio's in ons land. Ik heb onder andere mogen opnemen in Wisseloord (waar zelfs de Rolling Stones, The Police en Bowie nog hebben opgenomen) en heb nummers opgenomen voor Soufiane Eddyani, Jesska Fernandes en Danny Hookz. Live kun je me regelmatig vinden met diverse acts waaronder samen met Chevelly Cooman, Zoë Smit en Hard2Get.
Gitaarles
Gitaar, het mooiste instrument ter wereld. 6 snaren, 22 frets (meestal dan), en de wereld ligt aan je voeten! Maar hoe leer je zoiets nu?Het leren gitaar spelen door liedjes op te zoeken op internet, of door te leren via YouTube kan nogal verradelijk zijn. Grepen zijn moeilijk, je moet wel erg hard duwen om noten klinkend te krijgen en wat betekenen in godsnaam al die symbolen (C#m7????). Daarnaast ligt constant het gevaar op de loer dat je jezelf iets verkeerd aanleert waardoor je het jezelf alleen maar moelijk maakt.
Tijdens de cursus beginnen we met het spelen van losse melodieën. Zo kun je rustig wennen aan hoe de gitaar voelt.Wanneer we klaar zijn om te beginnen met akkoorden (grepen met meerdere noten tegelijk), gaan we eerst beginnen aan makkelijke liedjes totdat we alle basisakkoorden kennen.Als dat goed lukt bouwen we uit naar het CAGED-Systeem, met dit systeem kun je over de hele gitaarnek akkoorden vinden en nummers spelen.
Er is in dit proces ten alle tijden ruimte om jouw favoriete songs langs te laten komen! Al het lesmateriaal is aanpasbaar op jouw voorkeuren. Sterker nog: Heb je op de dag van de les een liedje gehoord op de radio dat je graag zou willen leren? Dan zoek ik hem ter plekke voor je uit en gaan we die songs die dag nog doen.
Ukeleleles
Ukelele is een leuk instrument om te leren! Het heeft een erg kenmerkende klank en de snaren zijn makkelijker in te drukken dan bij de gitaar. We beginnen met melodieën (één noot per keer). Later leer ik je door middel van simpele akkoorden je favoriete nummers. De lay out van de les lijkt erg veel op de beschrijving bij Cursus 1: Gitaar, maar dan aangepast voor de Ukelele.
Basgitaarles
Het donderende laag in iedere band! Basgitaar wordt vaak onderschat als een makkelijkere versie van gitaar, maar niets is minder waar. Het is een instrument met een volledig eigen klank en speelwijze! De basgitaar is in een band namelijk de schakel tussen het ritme van de drums en de melodieën van de gitaren en keyboards etc.In het begin gaan we de baslijnen van bekende songs leren, om te wennen aan hoe het instrument voelt.Later gaan we aan de slag met het spelen van bijvoorbeeld arpeggio's (de akkoorden in losse tonen) om te leren hoe jij zelf de mooiste baslijntjes kan schrijven!
Schrijf je gelijk in voor een proefles met me!
——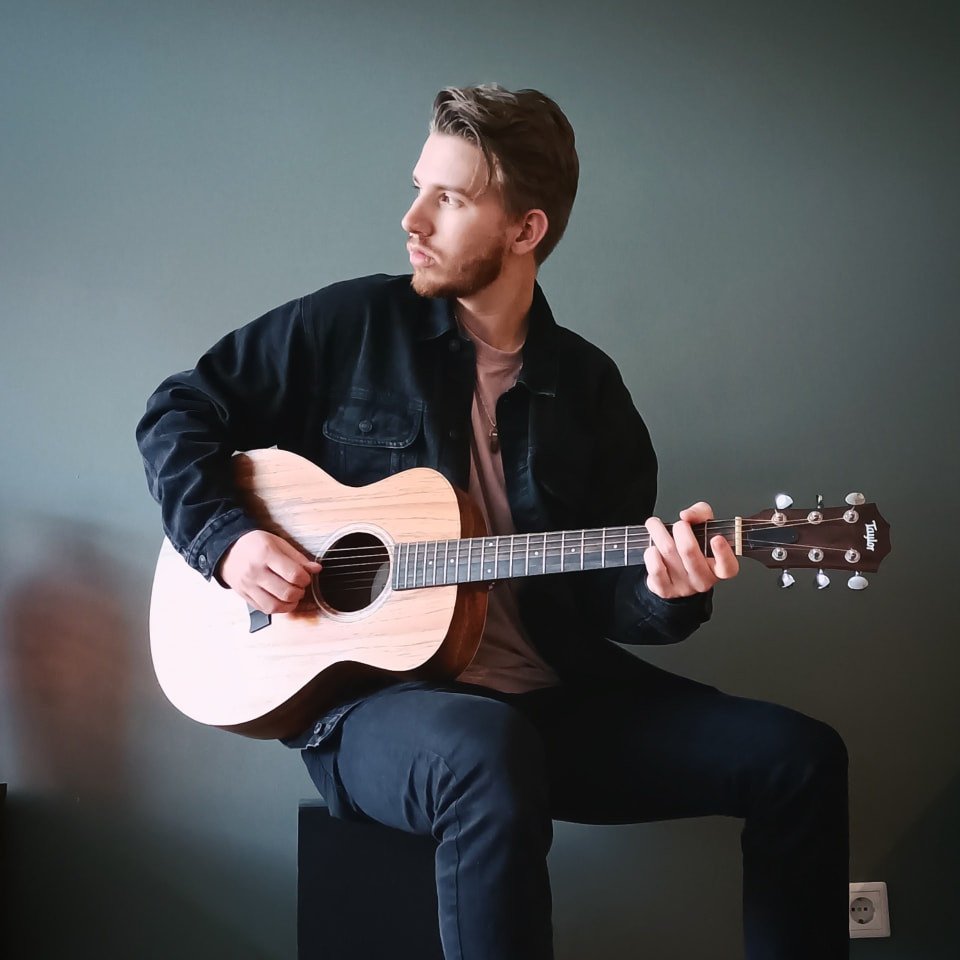 Introduction
'To inspire is the most important thing!'
Hi! my name is David Aelmans (1994) and I'm from Eindhoven. I teach guitar, ukelele and bass for several schools all across the North-Brabant region of the Netherlands.I started playing guitar myself back when I was a little kid. I was obsessed with the sounds of Iron Maiden, AC/DC and all the rest of the contents of my dad's record cabinet. I took lessons at the local music school, started playing in bands and decided to go to music college.
Now, some 15 years later, I teach approximately 20 students a week. I hope to inspire my student in the same way as my teachers have done for me back in the day. Music is one of the most beautiful things in life so wheather you're the next Jimi Hendrix or just having a whole lot of fun playing in your bedroom: I hope to help you in learning how to play the guitar!
Next to being a teacher, I am also a session guitarist. You can find me in the studio on a weekly basis. I've gotten to record in Wisseloord (the famous dutch studio where the Rolling Stones, The Police and David Bowie recorded) and have recorded songs for Soufiane Eddyani, Jesska Fernandes and Danny Hooks. live you can find me out and about with several acts including Chevelly Cooman, Zoë Smit and Hard2Get.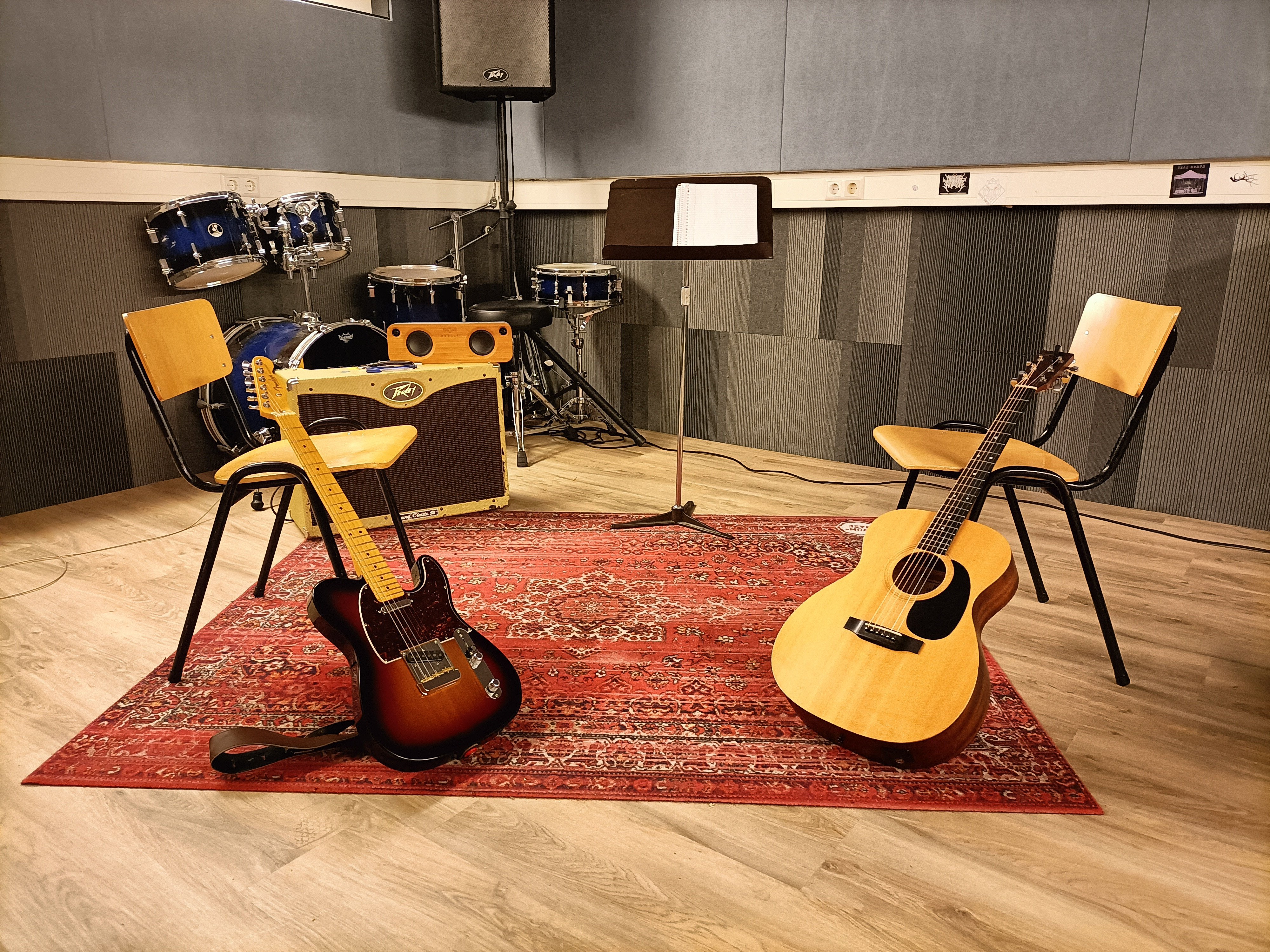 Course 1: Guitar
Guitar, the most beautiful instrument in the world. 6 strings, 22 frets (most of the time) and the world is at your feet. But how do you go about learning something like this?Learning how to play guitar by looking up songs on the internet, or by learning via YouTube can be a bit treacherous. Fingerings are hard, and it requires a lot of strength to get notes to ring out the way you want them to. And what do all of these symbols mean (C#m7???). Also, there is the constant danger of teaching yourself something the wrong way, only making it harder in the long run.
During the course we'll begin by playing little parts of the melodies of songs. This way you can get used to how the guitar feels.When we are ready to start playing chords (fingerings with multiple notes at the same time), we'll start of with easy songs untill we've got all the basic chords down.If that is all going well we will start working towards the CAGED system, with this system you can play chords across the whole guitar neck and playing songs becomes easy!
We have got all the room for personal preferences in this course! All of the lesson material is to be adjusted to your favorite style of music. Even more so: Have you heard a song on the radio that you want to learn, even on the day of the lesson, we will look up the song, I will write it out for you and we will look at that song that same day!
Sign up now for a trial lesson!
Course 2: Ukelele
Ukelele is a fun instrument to learn! It's got a very recognizable sound and the strings are easier to press down than on the guitar. We start of with some melodies, later I will teach you your favorite songs through simple chords. The lay out of the class is a lot like the description of Course 1: Guitar, except adapted for Ukelele.
Sign up now for a trial lesson!
Course 3: Bassguitar
The thundering low end in every band! Bass guitar is often underestimated as being an easier version of guitar, but that's far from true. It's an instrument with it's own sound and way of being played! The bassguitar is the link between the rythm of the drums and the melodies of the guitars and keyboards.In the beginning we'll look at basslines of famous songs, to get used to the feel of the instrument.Later we'll work on playing arpeggios for example (the chords devided into seperate notes) to learn how you can create your own cool bass lines!
Sign up now for a trial lesson!