Introduction
~Als je op zoek bent naar een productieve les in een leuke atmosfeer, dan heb je een goede tutor gevonden :-). Ik kan je alles leren wat je nodig hebt en ik zorg ervoor dat je plezier hebt terwijl je leert. Ik kan met u communiceren in Nederlands als je wilt, wat ook goed voor mij is om in contact te blijven met jouw taal. Ik kan lesgeven in het Engels, Pools en Nederlands.~
My beginning with cello was almost a coincidence – when I was 7 years old my parents had an idea to sign me up for private piano lessons, but I remember being introduced to the names of other most popular instruments I could also choose from – violin, flute, guitar, cello. I went for the last one because I found it had the nicest name, but I had no idea how it looks or sounds like. It turned out to sound gorgeous so from the start I was really inspired to learn to play cello. It went along playing some piano as a secondary instrument, which I also loved to play. After first and secondary degree music school in Poland, I went on to continue with my Bachelor studies of cello performance at Conservatorium Maastricht, afterwards Master studies at Codarts Rotterdam and an exchange semester in Prague Conservatory.
I went through 18 years of music school, that beside mastering my cello playing gave me a lot of education in music theory (ear training, solfeggio, harmony, analysis and music history) and also a professional experience in performing solo and in chamber music or an orchestra. I find myself very lucky to have been guided by truly caring and inspiring teachers who would encourage me to take part in cello masterclasses and learn from other teachers, or to participate in cello or chamber music competitions from which I could learn about good preparation and practice techniques, as well as trust myself as an artist/musician when performing on stage.
As a freelance musician I have a broad experience in performing different kinds of music and teaching, and I'm always highly motivated to pass on my knowledge and inspiration to students.
Cello lessons
As a teacher I have an open and inquisitive attitude and love to work with people. I can assure of a good environment and atmosphere during the lesson. I believe in passing on motivation, positive mindset and love for music. We can have the classes as 30-, 45- or 60 minutes sessions. The students' age doesn't matter, as well as their current level of playing. We can choose from a whole range of music genres, so not only classical, but also pop, jazz, rock or film music!
The lesson is usually divided in few parts, depending on the amount of time and whether there's a need to focus on working on something specific. There's space for some technical exercise, a pieces or songs from your current repertoire and playing together with me in a duo, where I accompany you on cello or piano. The lessons are surely fun and productive 🙂 I will always leave some nice interesting songs or exercises for you to play at home, and give you optimal hints for what to work on and how to practice in a good way.
I adjust to students' preferences – whether playing cello is your hobby or you have more serious plans with it, like preparing auditions or entrance exams to music schools/academies. Depending on what you aim for, I'll choose the right pieces/songs, exercises and methods that will get you to the point you want to be at. For example, you'll learn a stable intonation, you'll develop your rhythmical sense, musical interpretation skills, good posture and apparatus that works for you individually. Besides, you'll surely develop a musical personality ♫
For the trial lesson you do not need an instrument. However I can help you with renting a cello that suits your body well, is in good condition and is not too expensive to rent.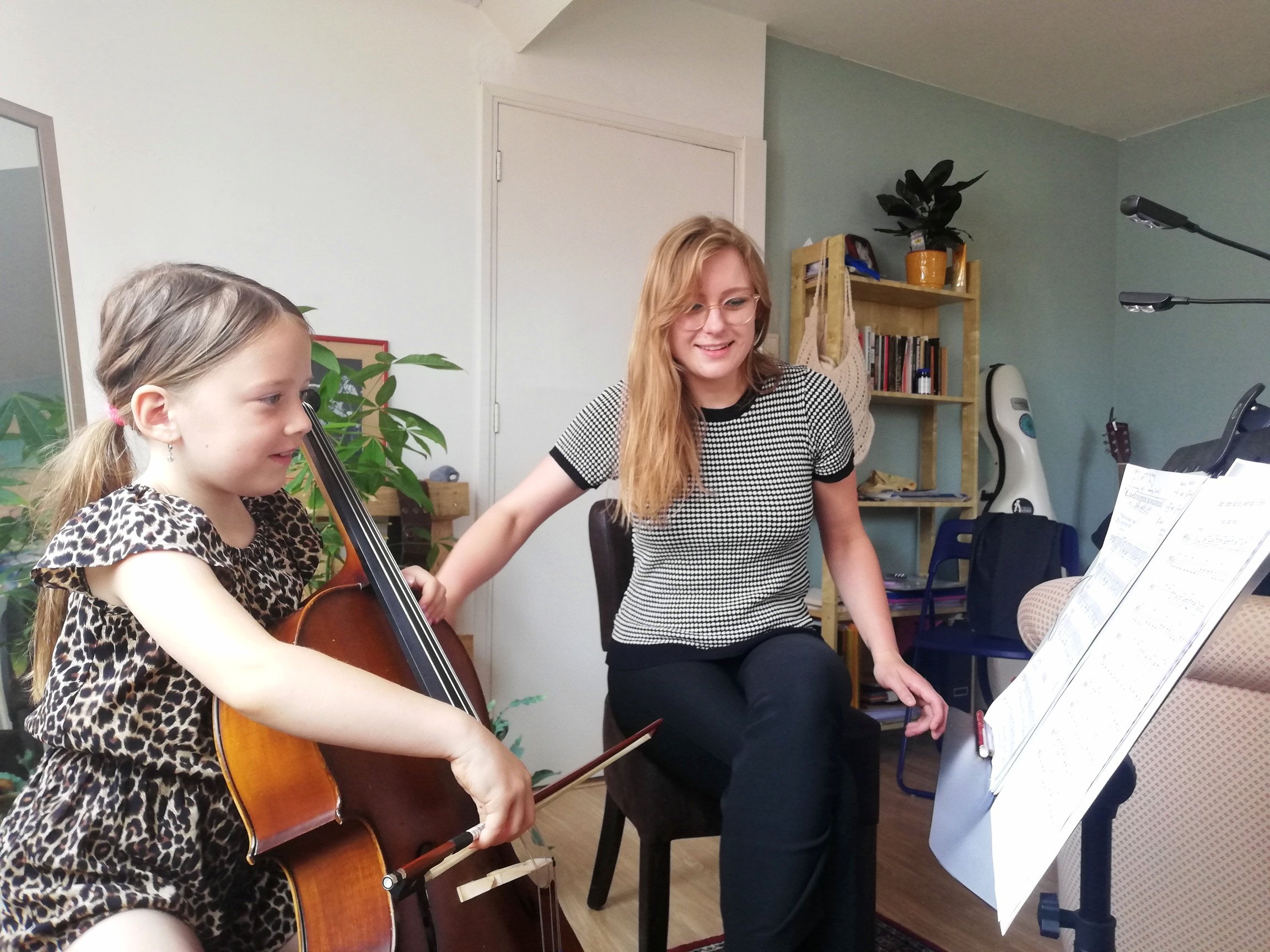 Enthousiast geworden?
Boek dan nu je proefles
Boek nu
Music theory 
Beside my main cello lesson domain, I offer help with Music Theory, Ear Training, Solfege, Music History and Piano. It can go along with the cello lessons, where at some point I will need to introduce you to some basic note reading skills and some ear training.