Introduction
My name is Lydia and I am a Greek cellist based in Utrecht. I am an active performer and cello teacher who loves exploring different kinds of music, from classical to contemporary, cinematic, rock, folk and other. I play in ensembles, orchestras and projects of various musical styles. I always seek to experience various emotions when playing and to discover more about the possible sounds I can produce with the cello. This is an approach that I also have during the lessons.                                                I have many years of teaching experience to people of different ages and levels as well as individual lessons and groups. The lessons can be done in English or Dutch , although ''mijn nederlands is beperkter dan mijn engels''. In addition to learning how to play the cello, we could study pieces from different kinds of music and also prepare excerpts needed for non professional and student orchestras. Moreover, in the lessons could be included improvisation and interracting warming up exercises by the student and the teacher as tools for the learning process.
Short summary of my studies:
I studied Early Childhood Education in my hometown, which gave me a lot of knowledge regarding different teaching methods and approaches. Later I came to the Netherlands to study music where I received my Bachelor by the HKU Utrecht conservatory and Master diploma by the Fontys Conservatory.
Celloles
My main goal as a teacher is to make my students feel creative, motivated to learn more about the cello and have fun while making music! 
The lessons are open to students of all ages and levels and are designed according to the needs and preferences of each student. We will make together a lesson plan that will be flexible and open to change so that the student learns in their own pace and in the most effective and fun way.                                                                              We will focus on creating a healthy posture that will help the relaxation of the body when playing. At the same time, we will pay attention on creating a solid technique that will give to the student the possibility to play with ease and enjoy. Also, we will cover the basics of music theory. Although these will be a big part of the lesson's focus points , the most important aim  will be to play and have fun. Gradually, we will work on enhancing the critical thinking of the student. This will give the chance to overcome technical difficulties alone, study in a 'smart' way and feel confident in their abilities and musicality.          
It is required to bring your own instrument. For more information or questions send me a personal message.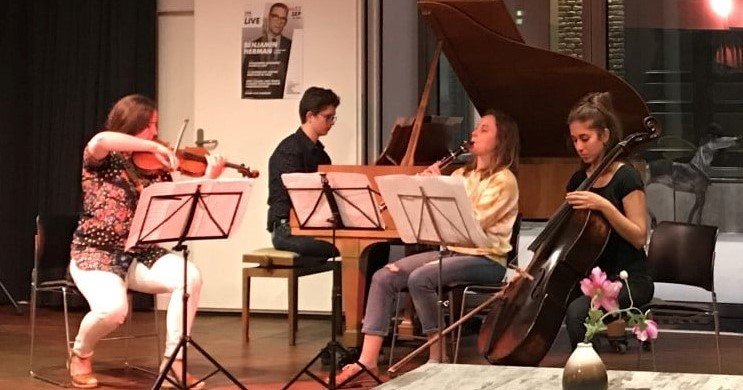 Enthousiast geworden?
Boek dan nu je proefles
Boek nu